Serious food allergies 'have changed our lives'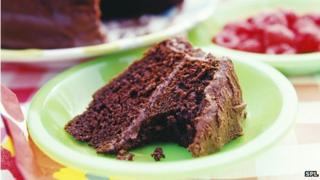 Even something as simple as eating a sandwich from her packed lunch which has been touched by crumbs of cake can trigger a severe and potentially life-threatening allergic reaction in Niamh Rooney.
The seven-year-old, from Hertfordshire, experiences this type of reaction - called anaphylaxis - when exposed to eggs and all kinds of nuts. She is also allergic to dairy foods and shellfish.
Her mum, Claire, says she is heartened by news of a potential treatment for peanut allergies but wonders how that might help someone with multiple food allergies.
The whole family has been on high alert every since her first anaphylactic episode when she was just 18 months old.
"It has changed our lives totally. I think about it all the time," she says.
"I dread going out to eat now, even though we are really sociable people and we love doing it, it just doesn't seem worth it anymore.
"And we also holiday in the UK so there aren't language barriers when it comes to food."
Daily risks
Claire admits to buying the same boring items at the supermarket every week because she knows they are safe for Naimh. She says she is regularly frustrated by labels that say they cannot guarantee to be free from traces of nuts.
In contrast, staff at Naimh's primary school are great, she explains, and very understanding, keeping all the necessary medication on site.
Although it is impossible for Naimh to have school lunches, because of the risk of contamination, Claire is allowed to cook her daughter a Christmas dinner and bring it into school to be warmed up.
If there are any cooking lessons, Claire is called in to double-check the ingredients.
She says Naimh's diet is quite limited as a result, with her packed lunch normally containing sandwiches with dairy-free butter and ham, fruit and some dairy-free biscuits.
But children's parties are probably the biggest challenge and cause of greatest anxiety.
"I would love not to have to send my daughter to a party with her own food and her own special party bag, and worry about nuts and eggs in the room."
Rejections
When Naimh's first serious reaction occurred after she ate cod, Claire initially thought she was choking on her food. But then she started struggling to breathe and hives appeared all over her face and arms.
Naimh ended up in hospital, where she recovered fully, before doctors started testing her for other allergens.
Claire remembers that when weaning Naimh at six months old, her body rejected just about everything, including wheat, soya, dairy, sesame, fish, celery, strawberries, coconut and even beef.
When they finally pinned down four allergens, it was something of a relief - but it hasn't made life any easier.
Although Naimh takes a dose of antihistamine every morning to minimise any allergic reactions, and carries an adrenaline auto-injector with her wherever she goes, there is as yet no cure for her severe food allergies.
Claire says it is very hard facing each day with a life-threatening condition, particularly one "that people dismiss or don't understand" - but she tries not to project her anxiety on to Naimh.
"I do all the panicking and worrying behind the scenes because I don't want her to be affected by it.
"But it's been life-changing for us all."