Technology is helping to give genetic disorders a name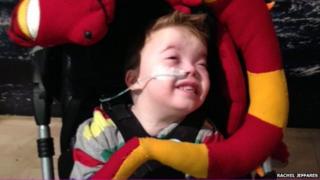 "Yes, my husband had to resuscitate him," says Rachel Jeffares calmly, as she describes one particularly traumatic episode when her three-year-old son Nate stopped breathing at home one night.
But they are used to dealing with the unknown.
The first 18 months of his life were "a blur of change and not knowing", Rachel says, because Nate has an undiagnosed genetic disorder which left him unable to move, breathe, make a noise or feed when he was born.
Nate's family, from Gateshead, and many others like them are hoping that gene-sequencing technology will give them a name for his condition and an idea of what his future holds.
Soon after his birth, Nate was subjected to a barrage of tests.
"They took samples of his chromosomes, did ultrasounds, MRIs, everything under the sun really - but they couldn't find anything," Rachel says.
She remembers it as a tough time. He spent four weeks in special care before he came home, but they still had no idea what they were dealing with.
"There were names of syndromes bandied around, all with a short life expectancy, but we still don't know what he's got and how long he's got to live."
Analysing genes
That is where the Deciphering Developmental Disorders (DDD) study is aiming to make a difference. To date, more than 6,500 UK families of children with undiagnosed genetic disorders are registered for the study, which hopes to discover their major genetic causes.
Around 300 diagnoses have been given to children around the country and as more families join the study by contributing samples of their DNA, researchers say their ability to find new diagnoses will increase.
Nate joined the study early on and has not yet received a diagnosis, but Rachel is hopeful that they may still get an answer.
"Even if he has a very rare disease, it would be useful to know, so that we know what the future is going to bring."
But she is philosophical too: "We've been living with unknowns for such a long time that if we don't get a name and a diagnosis, we'll manage."
For the approximately 6,000 children a year born in the UK with a genetic condition that is likely to remain undiagnosed, that experience is not unusual.
Getting access to help and support is often a challenge too, and that is something SWAN UK (Syndromes Without A Name) is trying to remedy. It provides a place for families with undiagnosed children to talk to each other and share experiences.
No answers
Nick Meade, policy analyst at charity Genetic Alliance UK, which runs SWAN UK, says not having a diagnosis for a child can be very hard for parents.
"Often, doctors are unable to answer even the simplest questions about their condition, like, 'Will my child learn to talk? or 'Will they be able to walk?'
"Parents cannot plan for the future or take steps to mitigate the development of the condition. They are left with feelings of helplessness and isolation.
"People will ask, 'What is wrong with your child?' One mother was told, 'If it doesn't have a name, it can't be that bad.'
Faced with this lack of information, SWAN UK has been providing a place for families with undiagnosed children to share their experiences.
Rachel was one of first members to join up and has found it to be a huge help.
Community-building
The charity's new local network projects are also focusing on how best to get social and educational support from their local authority - something parents say can be extremely difficult. These are funded by the Big Lottery Fund.
It's a small project, but it's growing, says Mr Meade.
"It will build our capacity, so that in the future someone can pop in to see another member when their child has been particularly ill or offer help while they take their child to hospital. We hope to build those communities."
Nate's general health has improved a great deal since those difficult early days when doctors discovered he was stopping breathing during the night and needed ventilation using a nasal mask - and sometimes resuscitation.
However, he still faces many other challenges.
Nate is visually-impaired. He is fed directly into his stomach through a gastrostomy because it takes him a long time to eat food by mouth, and he has seizures which appear to be getting worse.
But there are many positives too. He can roll over and sit upright with support and loves nothing more than listening to music and making noises.
And that's comforting for Rachel, her husband and her seven-year-old daughter.
"It would have been lovely to know then what I know now. He's a lovely little person."