Women have more obesity treatment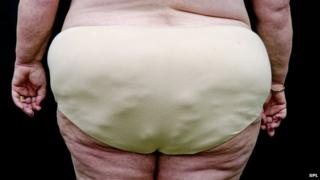 More than twice the number of women than men needed hospital treatment because of their waistline, figures for England show.
Health and Social Care Information Centre data showed 8,740 admissions in women and 2,990 admissions in men listed obesity as the primary reason.
Weight loss operations - known as bariatric surgery - accounted for the majority of these 2012-13 admissions.
There was a 7% decrease in admissions on the previous financial year.
They went from 11,740 in 2011-12 to 10,960 in 2012-13.
Tam Fry, from the National Obesity Forum, told the BBC: "On the face of it, it looks terrific.
"But I am concerned that this fall is because of the number of obesity operations being refused because of a lack of funds.
"The barrier for treatment is going up and people are being denied the treatment they deserve."
The latest figures still mark a huge increase on a decade ago when there were only 1,280 admissions in 2002-03.
Around one in four adults in the UK are classed as obese.
The difference in hospital admissions between men and women is thought to be down to differing attitudes to health.
Alan Perkins, the head of the Health and Social Care Information Centre, said: "Obesity has been a public health issue for many years and can increase the risk of disease and long-term illness.
"The past 10 years of data show hospitals have dealt with considerably more women for obesity than men and it will be interesting to see if this pattern changes in coming years."