Why did widow win frozen sperm fight?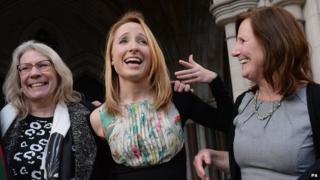 Looking purely at the letter of the law, Beth Warren did not seem to have a strong case.
She had gone to the High Court to try prevent her dead husband's sperm from being destroyed next year.
That is when consent documents for storage legally expire. You can read more about the case here.
In her ruling, Mrs Justice Hogg decided to overrule the regulations and look at what had been the intentions of the couple.
At every stage Mr Warren had made clear that his partner, and later wife, should be allowed to use his sperm in the event of his death.
The fundamental problem was the couple had not been given the opportunity by their fertility clinic to store his sperm for a prolonged period.
The judge said this produced "a great and conspicuous unfairness".
She was satisfied that, had he been informed, Mr Brewer would have consented to it being stored for up to 55 years.
The judge said that to destroy Mr Warren's frozen sperm would be contrary to his wishes and a "devastating loss" to his widow in the event of her wishing to bear his child.
Beth Warren has made it clear she is not ready to have children, and may never decide to try to conceive using her late husband's sperm, but she wants to keep her options open.
The judge also upheld her claim under the Human Rights Act.
Her lawyers argued successfully that destroying the sperm would breach her rights under Article 8 - respect for private and family life.
Judgments like this might have implications for future cases, but the judge said these are likely to be relatively few.