'Crazy' organ donation rules lead to baby deaths, say doctors
By James Gallagher
Health and science reporter, BBC News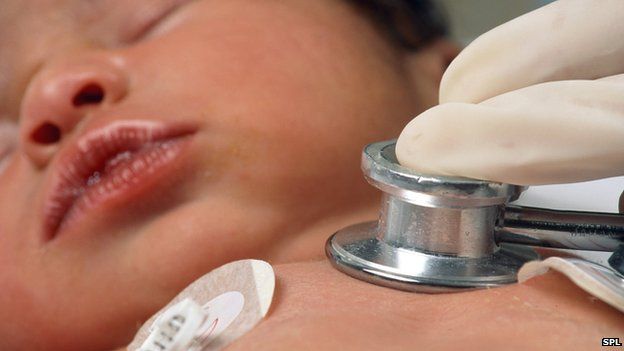 UK doctors have attacked a "crazy double standard" in organ donation which they say causes babies' deaths.
Strict UK rules stop babies under two months old becoming organ donors, but do allow newborns' organs to be imported from Europe.
The Royal College of Paediatrics and Child Health is conducting a review.
Four children who have not had their first birthday are waiting for a heart transplant in the UK.
Tiny babies need tiny organs, but they can come only from very young organ donors.
Rules introduced in 1991 prevent babies under two months old being declared brain dead and becoming organ donors.
Other countries in Europe as well as Australia and the US do allow donation at this age.
It means very young British babies in need of a transplant are dependent on organs donated from abroad.
Great Ormond Street in London and the Freeman Hospital in Newcastle are the only child heart transplant centres in the UK.
Dr Richard Kirk, a consultant paediatric cardiologist in Newcastle, is caring for three tiny children in urgent need of a transplant.
He told the BBC: "They would be transplanted and home if the UK system was the same as in other countries around the world.
"There is a crazy double standard operating - it's forbidden to declare a baby 'brain stem dead' in the UK and yet no-one minds us flying to Europe, where the doctors are allowed to diagnose brain stem death, and bringing the donated organs back to the UK to use.
"Where is the sense or ethics in that?"
Sarah Cox, now seven, was initially a healthy baby. But she contracted viral meningitis, which damaged her heart, making her seriously ill.
When she was three weeks old, her family were told there was no chance she was going to survive.
At the moment Sarah's life was hanging in the balance, an organ became available in Europe.
Her mum Jennie told the BBC: "It wouldn't have happened if we were only reliant on UK donors.
"Sarah was very fortunate to be in a position where there was no-one else in Europe that needed a heart at that time or suitable and she was able to have that.
"If the roles had been reversed and there was a child in Europe who was suitable, neither of them would have survived because we wouldn't have been able to agree to donate our child's organs and that seems an inconsistency, which is difficult to accept."
Joe Brierley, a consultant in the intensive care unit at Great Ormond Street, has investigated the impact a change in the UK rules could have.
His study showed that in the past six years at Great Ormond Street alone, there were 11 potential donors, a figure which would be replicated in other major paediatric centres in the UK and enough to make a "significant" impact on organ donation.
He said: "The other countries have guidelines that say from around term you can reliably make that definition that someone has died.
"In the UK, the original guidelines were written long before organ donation was a possibility for children and their families and they were really just cautious and rather conservative.
"There's certainly quite a bit of data that shows if parents are given this option and decide they want to go ahead and donate organs, that can provide a lot of comfort in the years to come."
The rules are in place because it is never easy to diagnose brain death in very young children.
The Royal College of Paediatrics and Child Health is reviewing the science behind the guidelines and is due to report in summer 2014.
Prof James Neuberger, from NHS Blood and Transplant, said: "We know from speaking to families that have gone through the most devastating experience of losing a young baby that they regret not being able to consider organ donation because of these guidelines.
"The sad reality is that for everybody to get the life-saving transplant they are desperately in need of, more families who are facing the tragic loss of their young baby will need to agree to donation.
"Especially for young babies in need of a transplant, the size of the donated organ will be a major factor to determine whether they can have the life-saving operation or not."
Related Internet Links
The BBC is not responsible for the content of external sites.