Doctors: Start to lose baby weight after three months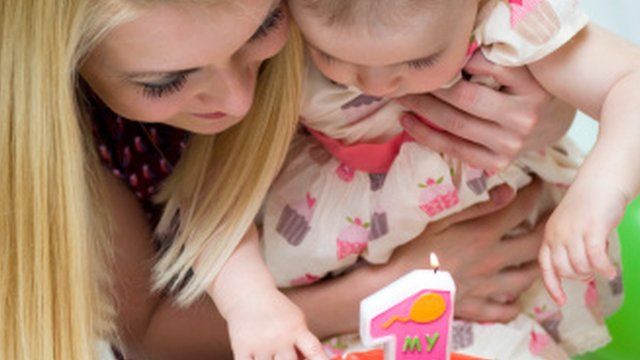 There may be a scientific basis for the post-pregnancy adage, "Nine months on, nine months off".
Doctors in Canada say three to 12 months after birth is the key time to start losing the "baby weight".
Mothers who fail to lose excess weight within a year after delivery or put pounds on may be risking their health, they report in Diabetes Care.
Women in this group have higher blood pressure and other risk factors for later diabetes and heart disease.
The elevated risk factors seen one year after giving birth in women who did not lose weight were not present at three months after childbirth.
This suggests that three to 12 months after birth is a critical time for women to lose at least some of the weight gained in pregnancy.
Dr Ravi Retnakaran is the diabetes researcher and clinician who led the study.
He told BBC News: "Most women are not going to go back to their pre-pregnancy weight right away and we found that the typical pattern is more than 80% don't by three months.
"But, at some three months to 12 months, what we're suggesting is that you should be on a trajectory of weight loss."
Dr Retnakaran added: "What we're seeing is the period between three and 12 months after delivery is a critical window during which practitioner and patient attention to weight control may be very important to long-term metabolic and vascular health."
Pregnancy is the one time when it is normal to gain weight - about 20% or more of body weight over the course of nine months.
After delivery, attempts to lose weight can be hampered by lack of time for exercise, and lost sleep.
A woman's weight one year after birth is a stronger predictor of the likelihood of her being overweight 15 years later than the weight gained during the pregnancy itself, research suggests.
The theory is that the cumulative effect of weight gained during each pregnancy contributes to a woman's risk of conditions such as type-2 diabetes and cardiovascular disease.
They also monitored risk factors for diabetes and heart disease, including:
blood pressure
LDL (bad cholesterol)
resistance to insulin
They found most women did not start losing weight immediately after birth - eight out of 10 had higher weight three months after the delivery than before they became pregnant.
Between three and 12 months after birth, 75% of the women lost weight.
The 25% who had no weight loss or gained had a poorer risk profile for developing diabetes or heart disease in later life, the research found.
Exercise was an important factor in weight loss, the study found, with high physical activity levels, particularly through playing sport, associated with weight loss.
British Heart Foundation senior cardiac nurse Maureen Talbot said while it could be difficult to lose weight after pregnancy, being overweight increased the risk of heart attack or stroke.
"That's why it's important for new mums to look after themselves as well as their baby by keeping active and eating healthily," she said.
"With a new baby you will undeniably have your hands full, so don't try to rush into diets and fitness regimes.
"Instead, steadily ease yourself back into fitness by working physical activity into your routine, for example with a lunchtime walk or a mother-and-baby exercise class."
Related Internet Links
The BBC is not responsible for the content of external sites.