Consider mass fluoridation of water, says health body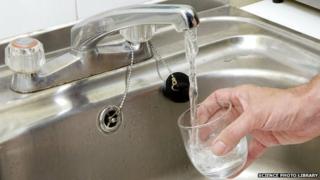 Adding fluoride to water should be considered by councils in England to improve dental health, the government's public health advisory body says.
Public Health England urged councils to act after reviewing the impact of water fluoridation on children in areas where it has been introduced.
About 6m people - 10% of the country - currently live in areas with fluoridated water supplies.
PHE said it was a "safe and effective" public health measure.
Its review found it had reduced tooth decay and hospital admissions for dental problems.
In fluoridated areas, there were 45% fewer children aged one to four admitted to hospital.
Levels of general tooth decay were 15% lower for five-year-olds and 11% lower for 12-year-olds.
In deprived areas the impact for general tooth decay was even greater.
PHE also looked for signs of harms but found none. It has been suggested water fluoridation can increase the risk of some cancers, hip fractures and Downs syndrome.
Controversial
Sue Gregory, PHE's director of dental public health, said: "These findings highlight the important contribution that water fluoridation makes."
She said councils would need to consult their local populations on the issue and conceded there were some technical hurdles to overcome.
Water zones tend to span several local authority areas and so fluoridation could require agreement across regions.
England is one of the few countries in Europe that adds fluoride to water. Neither Scotland or Northern Ireland does, while in mainland Europe Spain is the only country with similar levels of fluoridation.
However, it is more popular in places such as Australia and the US.
Birmingham was the first place to fluoridate water in the 1960s and since then other areas across the Midlands and in the north west, north east and Yorkshire and the Humber, have taken the step.
But it has proved controversial.
Attempts to add fluoride to the water supply in Hampshire in recent years have run into stiff opposition and even ended up in court with campaigners saying they were concerned about the health impacts.
Prof Damien Walmsley, of the British Dental Association, said: "The report is a timely reminder of the significant role that fluoridation plays in reducing tooth decay which remains a significant health problem in England."
But a spokesman for the National Pure Water Association said health chiefs should concentrate on alternatives, such as better dental hygiene, to improve teeth.