Call for merged 'super' health and care budget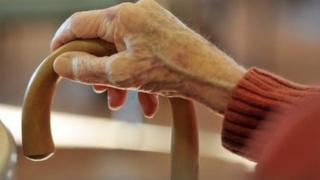 A merged NHS and social-care budget in England is needed to stop vulnerable people falling into the gaps between the two services, experts say.
The Barker Commission's interim report said an ageing population and rise in illnesses such as dementia had "blurred the lines" between the two.
It said this was creating increasing friction between the NHS and councils over which was responsible for care.
The result was people faced delays getting care or went without, it added.
The commission - led by former Bank of England monetary policy committee member Kate Barker and set up by the King's Fund think tank - said only a "new settlement" would solve the problems.
The two systems were created after World War Two.
The NHS was set up to offer a universal system free at the point of need funded from a ring-fenced budget.
Whereas, councils were given responsibility for social care, which includes care homes and domiciliary care such as help in the home washing and dressing, as well as the support given to younger adults with disabilities.
They only provide this to the least well-off and those with the greatest needs.
But the commission pointed out that in recent years the funding squeeze had meant the numbers getting publicly funded social care had dropped by a quarter between 2008-09 and 2012-13.
'Right approach'
Ms Barker said a pooled budget would create "a single, seamless health and care system".
"The current systems rub up against each other like bones in an open fracture. This is not sustainable - we need a new settlement fit for the 21st Century," she added.
But the report did not commit to how this could be funded, who would be in charge of the budget or how you align a means-tested system with one that is free at the point of need.
These issues will be addressed in the final report, which is likely to be published in September.
However, the interim document did make a number of suggestions, including providing free social care at the extreme end - in cases such as advanced dementia or end-of-life care.
Another option would be to introduce a cap on NHS costs to mirror what the government is doing for social care from 2016.
Merging the two budgets is something that has been discussed by Labour, but is yet to become formal party policy.
Caroline Abrahams, of Age UK, said integration was the "right approach".
But she added: "It can't happen until the social care funding gap is filled, and politicians in every party need to recognise this and commit to action as an urgent priority."
Care and Support Minister Norman Lamb said the government was already trying to encourage a more joined-up approach.
Next year a £3.8bn "integration" fund will be created - mainly from taking money from the NHS - to encourage councils and health services to work together.
He said this would help people to "live independently, getting them out of hospital more quickly and preventing them from getting ill in the first place".