Hospital watchdog finds 'huge variation' in care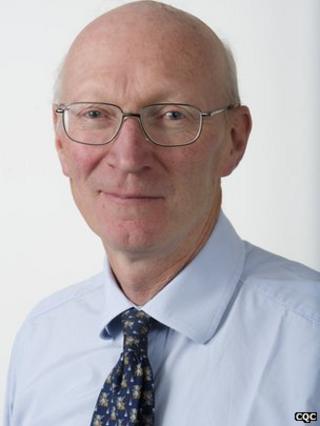 The chairman of England's health watchdog has told the BBC there are hospitals "where you would not want to go as a patient".
David Prior said the Care Quality Commission's main finding from new inspections had been the "huge variation" between hospitals.
Mr Prior said there was an NHS postcode lottery in standards of care.
He told BBC Radio 4's PM programme, England had "probably some of the best led, best run hospitals in the world".
'Inadequate'
Speaking in an interview to mark his first year at the CQC, Mr Prior said: "In those hospitals where you would not wish to go, you have a very poor damaged culture where employees feel they can't raise concerns, where patients are not listened to."
When asked which hospitals he would not want to attend as a patient, he said the CQC had identified a number of hospital trusts as "inadequate".
"Barking Havering and Redbridge is a good example," he said. "Heatherwood and Wexham Park would be another one."
But he added: "It is important to make the point that many of these hospitals are good in parts. There are some A&E departments you would not want to go to and others have got poor maternity departments but those would be two hospital [trusts] that overall would come out to be inadequate."
The CQC has published inspection reports about both hospital trusts over the last few months. It did not use a ratings system but did raise concerns.
Barking, Havering and Redbridge University Hospitals NHS Trust was put into special measures in December. Its A&E departments were found, at times, to be "unsafe".
The trust's new chief executive Matthew Hopkins told the BBC: "I am working with our new chair, Dr Maureen Dalziel and all our staff to implement the trust's improvement plan to resolve the issues raised in the Care Quality Commission report.
"Both Maureen and myself have a clinical background and are passionate about providing high quality care which will make Queen's and King George hospitals a provider of choice."
In January, Heatherwood and Wexham Park Hospitals NHS Foundation Trust was told to make "urgent improvement to protect patients" at Wexham Park Hospital in Slough.
The trust told us it did not wish to respond to Mr Prior's comments.
Mr Prior used to be the chief executive of the Conservative Party and is a former MP for North Norfolk.
He was also the chairman of a hospital trust, before joining the CQC in January 2013.
'Poor leadership'
Mr Prior told the PM Programme the kind of service which patients receive will depend on which hospital they go to.
He said: "We have postcode lotteries in the NHS because the quality of care in one hospital can be very different from the quality of care in another hospital. And I think by exposing those variances, we can address them."
Mr Prior said if there was one common reason for a hospital failing, it was poor leadership.
"Sometimes that's because the leadership has been changed very often and the organisation has got no stability," he said.
"Sometimes it's because the leadership can't engage with the clinicians. Sometimes it's because the leadership is not visible. Sometimes [it is] because the leadership is not strong," he added.
The CQC took over the regulation of health and social care services in England in 2009 and has faced strong criticism.
It now has a chief inspector of hospitals and has introduced a new more rigorous type of inspection.
Mr Prior has described the inspections as "deep dives".
Last year Mr Prior told the PM programme the "acid test" of success was to be able to ensure the CQC could identify hospitals which are at risk of failing "very early on".
He does not believe his organisation is "there yet" and explained: "We've got this new intelligent monitoring sort of screening system and then we go and inspect on the back of that screening tool."
"We're never going to be 100%. We have come a long way. But the new inspection methodology - the new risk screening tool - is still bedding down," he added.
Next week the CQC will begin what it calls its "formal consultation" on new detailed guidelines about inspections and ratings.
The documents will explain how it hopes to regulate a range of health and social care services, including hospitals, mental health services, GP practices and care homes.
Listen to the full interview on the PM programme on BBC Radio 4 at 17:00 BST or catch it later on the iPlayer.