England 'being caught up on NHS performance'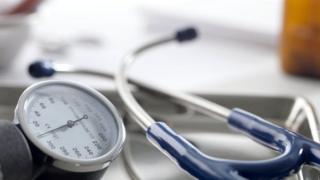 The NHS in England is continuing to perform marginally better than the other UK nations, but the gap is narrowing, a review suggests.
The joint Health Foundation and Nuffield Trust study looked at a range of factors from waiting times to death rates.
It found overall all four nations were improving - mainly because of extra money and targets.
But it found some evidence the rate of improvement was faster outside England.
It comes after a previous report by the Nuffield Trust in 2010 suggested England was out-performing the rest of the UK.
Researchers analysed data going back up to 20 years on some measures.
MRSA death rates have fallen fastest in Northern Ireland in recent years, but they are still nearly three times higher than they are in England.
For ambulance response rates, performance is measured in terms of answering life-threatening calls within eight minutes.
In England performance has been hovering around the 75% mark for the past five years.
Whereas for the rest of the UK it has risen from just over 55% for the other nations in 2006-2007 to 73% for Scotland and Northern Ireland and 68% for Wales.
Waiting times
Wales is also lagging behind on waiting times for non-emergency operations following a deterioration in performance since 2009-2010.
The report found waiting times for hip replacements were 170 days on average in Wales compared with 77 in England.
It said the most obvious reason for this was the cut in funding seen over the previous three years in Wales of 1% compared with the growth elsewhere.
Researchers said this should act as a warning to politicians as they consider how to manage government spending during times of austerity.
In terms of avoidable deaths rates - which is considered a good proxy for healthcare performance - the figures have been improving across the UK.
Rates more than halved in each country from 1990 to 2010.
Again England has the best figures, but the biggest gains have been seen in Scotland, Wales and Northern Ireland.
Researchers said the fact all four nations were seeing improvements indicated that the different policies pursued since devolution, such as competition in England and collaboration in Scotland and Wales, had made little difference.
Instead, they said the most important steps appeared to be funding - as the biggest increases have been seen in the past decade when the budgets have risen the most - and the use of a few key targets.
Health Foundation chief executive Dr Jennifer Dixon says: "It is very good news for the public that the quality of healthcare is improving across the UK.
"But what is also humbling for politicians is that so far no one policy cocktail seems to be more effective than another on NHS performance."
The report was welcomed by ministers from all four countries.
Scottish Health Secretary Alex Neil said it showed "significant improvements" had been made, particularly on waiting times.
Meanwhile, Welsh Health Minister Mark Drakeford said steps were being taken to improve waiting times, but there were other measures, such as ambulance response times, where really good progress had been highlighted.
Northern Ireland's Health Minister Edwin Poots added his priority was to "step up" the improvements that were being seen.
A spokeswoman for the Department of Health said the report reaffirmed the importance of protecting the NHS budget - a key Tory pledge during the last election campaign.