Analysis: How do we know if drugs work?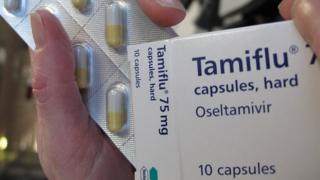 Did governments around the world waste millions of pounds on Tamiflu?
It is an argument raging between researchers at the Cochrane Collaboration and the manufacturers Roche.
The answer is hugely important for how countries prepare for a flu pandemic, but this is just the poster-child for a much bigger issue at the heart of medicine.
So here's a question to ponder: "Do any drugs work?"
It seems an obvious and perhaps stupid question, but it is estimated that half of all clinical trials have never been published and that positive results are twice as likely to be reported as negative findings.
The Public Accounts Committee of the UK's House of Commons this year said the lack of data on the effectiveness of medicines was "of extreme concern" and that "the ability of doctors, researchers and patients to make informed decisions about treatments is being undermined".
Regulatory bodies such as the European Medicines Agency and the US Food and Drug Administration analyse private trial data that is not available for the rest of the world. They use that information to decide whether drugs should be approved.
However, this is not enough for a growing band of people and organisations calling for more transparency and for trial data to be made widely available.
'Missing data'
Dr Ben Goldacre, author of BadPharma, told the BBC: "It is fairly uncommon that drugs do more harm than good, it is more common that we are misled by the relative benefits of treatments and that's a really big problem.
"If there's seven drugs available we need to know which is best.
"We don't know what is the best anti-depressant, there's so much missing data, and that's a ludicrous situation."
But things may change soon.
Fresh European regulations look set to ensure that all future drug trials are registered and the conclusions reported publicly.
However, campaigners say this will not shed light on drugs which are already being prescribed.
Dr Fiona Godlee, the editor of the British Medical Journal which has fiercely pursued the evidence on Tamiflu, said: "With the new European Clinical Trials Directive bringing in rules for future drugs, it highlights the enormous challenge we face.
"We need the commitment of organisations and drug companies to make all data available, even if it means going back 20 years. Otherwise we risk another knee-jerk reaction to a potential pandemic."
'Expectations'
Some drug companies are responding to the changing climate.
The pharmaceutical giant Roche, which manufactures Tamiflu, is becoming more open with its data.
Its UK medical director, Dr Daniel Thurley, said: "Society's expectations have changed, but it's important we only share this data with groups that have the capability and insight into how to use it.
"Otherwise you can have perverse discoveries made because people haven't understood the nature of the data."
So, "does a drug work?" is a far more complicated question than you might expect and explains why half a billion pounds can be spent a drug that some people don't think you should take at all.