How often is prostate cancer misdiagnosed?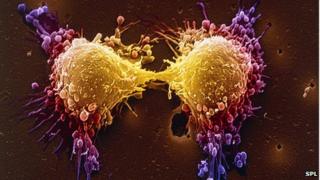 The headline is worrying: "half of prostate cancer misdiagnosed".
It came from a Cambridge University study which followed hundreds of men who were given a prostate cancer diagnosis.
Half of the men who were told they had a less serious form of the disease, had in fact more serious cancer.
Media reports suggested men with prostate cancer were being given 'false hope' by tests that underestimate the severity of the disease.
But cancer specialists have said diagnostic techniques have 'moved on' considerably in recent years.
Determining severity
Prostate cancer is the most common male cancer in the UK with more than 40,000 new cases each year and nearly 11,000 deaths.
Many men can live with the disease for years without the need for surgery and radiotherapy to remove the walnut-sized organ - treatment which carries the risk of serious side effects such as erection problems.
The difficulty is separating less serious prostate cancers, often called 'pussycats', from the aggressive 'tigers'.
All the men in the Cambridge study had undergone needle biopsies - guided by ultrasound. This technique means the medical team have to guess roughly where the abnormality might be when getting a tissue sample.
But things have moved on considerably since the study ended in 2008.
Current best practice, at centres like Addenbrookes in Cambridge - where the study was carried out - and University College London Hospitals, is for patients to have an initial MRI scan.
'Blind samples'
This can often rule out any abnormality in the prostate meaning there is no need for any invasive tests.
If a biopsy is required, the MRI scan is used as a template to accurately guide where to place the needle.
Professor Mark Emberton a consultant urologist at UCLH said in no other cancer would specialists take 'blind samples' of tissue, and there was now no need for it in prostate cancer.
He said diagnostic accuracy using MRI targeted biopsies was now in excess of 95 per cent, so men should be confident that they would get the best treatment.
Guidelines on prostate cancer treatment in England commissioned by NICE revealed that around three quarters of cancer specialists now use MRI for the detection of prostate cancer.