Call to end vaccine 'nightmare'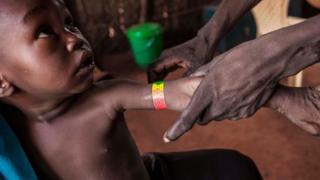 Getting vaccines to children in remote parts of developing countries can be a logistical nightmare, not least because of the requirement to keep them cold.
But the charity Medecins Sans Frontieres says this is an unnecessary "nightmare" and is calling on pharmaceutical companies and the World Health Organisation to ease a blanket recommendation to keep vaccines cold.
Currently, all the key childhood vaccines need to be kept between 2-8C.
The so called "cold-chain" starts from the moment the drug leaves the manufacturers, to the moment it's given to the child.
MSF says easing the rules would help health workers get life-saving vaccines to millions of children who are missing out.
'Borrowed fridges'
Vaccinations for children, such as polio and measles, are recommended to be kept in the cold-chain. Everything from huge refrigeration units to small cooler bags are used along the journey.
The charity said that whilst that's easy in wealthy countries, it's a "considerable obstacle" in developing countries, particularly in areas that are hot, isolated and lack reliable electricity for refrigeration.
It said it's contributing to more than 22m children under one not getting fully vaccinated each year.
"We're spending huge amounts of resources and time trying to keep the vaccines cold in places like Chad and the most remote areas of South Sudan and DRC" said vaccines policy advisor at MSF, Kate Elder
"We've had to actually borrow freezer and fridges from hotels in the capitals of these countries because we don't have the cold space to make sure we can store all the vaccines.
"It becomes an enormous logistical nightmare"
'No commercial gain'
The WHO says rules around licensing and regulating vaccines means they are tested for wide use in temperatures between 2-8C.
However, the vaccines are also tested at higher temperatures and so pharmaceutical companies have information on how effective they are in those conditions.
MSF wants companies to use that data to re-license their drugs so they can be used in more remote areas more easily.
But Michel Zaffran co-ordinator of the WHO's immunisation programme says it's not that simple.
"Some vaccines are very stable at warmer temperatures and some are very unstable.
"So it would be very complex for a vaccination programme (where children receive a number of vaccinations at the same time) to say this particular vaccine needs to be kept in the cold chain, but this other one doesn't."
The WHO says it's been working with manufactures for years encouraging them to start the process to re-licensing drugs so they don't need to be kept cold all the time.
"There's not much of an incentive for industry to do this."
He said: "There's nothing to be gained commercially at the moment, but we do see manufactures taking this very seriously".
Ongoing talks
Immunisations prevent two to three million deaths each year from conditions like diphtheria, pneumonia, rubella and tetanus.
Pfizer, which is one of the manufactures of the pneumonia vaccine used by the WHO said it has recently finished studies showing the vaccine can be "removed from refrigeration and transported or stored at 40C for up to five days prior to being administered".
It says it is in ongoing talks with global boards of health on the issue.
The WHO insists that whilst the cold-chain makes vaccination programmes more complex and expensive, it doesn't stop children being vaccinated.