Care homes: The known and the unknown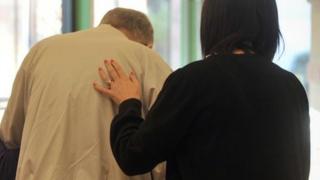 The BBC Panorama expose of Essex's Old Deanery care home is shocking. But once you've absorbed the revelations, it's natural to wonder just how widespread such abuse is.
Andrea Sutcliffe, the chief inspector of social care, has been quick to say it is a minority issue. She is undoubtedly right. But what the regulator doesn't know is just how big a minority.
More than 17,000 care homes are registered in England. Since 2011 1,200 have been given warning notices.
Some of those are to do with care and staffing, but some are because of more mundane aspects, such as management and administrative processes including record-keeping (which of course are important but not evidence suggesting residents are being mistreated).
What is more, most care homes have since made the improvements needed - although more than 400 still have the notices in place.
From this, it would be easy to conclude that problems exist in just above 2% of homes (400 as a proportion of 17,000) and that in most cases the issues do not translate into the abuse found at the Old Deanery.
But really this just tells us what is known. What it does not tell us is what is unknown.
Uncomfortable truth
Let me explain. The problem with care homes - and Care Quality Commission inspectors are fairly open about this - is that it is much easier to hide abuse than it is in, say, hospitals.
Hospitals are essentially open environments. Public and staff come and go. By comparison, care homes are private places where the main care being provided is personal, often intimate.
In those situations the testimony of staff and residents is essential.
It is a point Caroline Abrahams, the charity director of Age UK, has been making following these revelations.
She wants to see the elderly and their families given more of a say in the running of care homes and clear avenues to raise the alarm when standards do drop and staff given more protection when they do speak out.
In fact, whistleblowing was the reason the Old Deanery was on the radar of the CQC in the first place (concerns were passed on to the regulator in 2012, leading to a warning notice).
But last year I am told the complaints largely stopped and management were able to provide assurances about standards - hence the warning notice that was in place was lifted.
This illustrates perfectly an uncomfortable truth. Regulation of care homes is - by and large - only as good as the people providing the information to the inspectors.