Hormone boost 'may help infertility'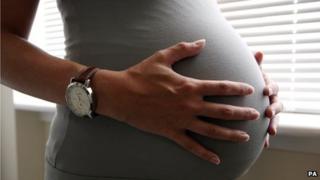 A study shedding light on the way key hormones affect the brain could pave the way for new fertility treatments, researchers say.
The Imperial College London team studied five women with hypothalamic amenorrhea - a condition common in athletes, which makes periods stop.
Stimulating the brain to make more of the hormone, kisspeptin, could boost fertility, they said.
While the study is small, they said it proved an interesting concept.
The scientists looked at kisspeptin and another reproductive hormone which is depleted in women with HA, disrupting the menstruation cycle, and potentially leading to infertility.
Stress or anorexia
About one in 100 women in Britain, and one in 10 professional female athletes, have HA.
Alongside athletes, it is common in women under severe stress, or who have anorexia.
In those women, the hypothalamus - a part of the brain which regulates the menstrual cycle - stops producing hormones correctly.
The exact reason why is unknown.
The team studied two hormones made by the hypothalamus - kisspeptin and luteinising hormone (LH).
Kisspeptin sparks the release of LH in the brain, scientists said.
LH regulates women's reproductive cycles. It is one of the hormones which helps prepare the womb for a fertilised egg.
If the amount of LH, along with other hormones, in the body drops, women can stop producing eggs, having periods.
As HA is associated with low levels of LH, the study said, it can cause infertility.
But HA is not as common a cause of infertility as polycystic ovaries, for example, said researchers.
Infusion treatment
Scientists gave five women with HA a drip containing different concentrations of kisspeptin during six eight-hour sessions.
They looked at women aged between 24 and 31 in the study, published in the Journal of Clinical Endocrinology & Metabolism.
Women were given changing concentrations of kisspeptin and their LH levels - alongside how often LH was released - were measured by taking blood samples every 10 minutes.
Comparisons were run with a previous control test, where the patients were given a placebo and measured in the same way.
Researchers said increasing levels of kisspeptin brought about a rise in the levels of LH and meant LH was released into the bloodstream more often.
They said kisspeptin could act on nerves to amplify the LH pulses.
Lead researcher Dr Channa Jayasena said it was a "small, concept study" and would need to be supported by larger studies to see the effect on fertility.
"We have shown that in the short term, IV [intravenous] infusions of kisspeptin at certain doses can restore the pulses of LH that are essential for female fertility," he said.
'Novel approach'
"The long-term aim is to determine whether kisspeptin could be used to treat certain forms of female infertility.
"If this is viable, it could provide an attractive and possibly less costly alternative to IVF."
Dr Jane Stewart, at the Newcastle Fertility Centre for Life, said the study marked an "interesting and novel approach" to a relatively uncommon problem.
"It clearly needs further evaluation both in the effect demonstrated by this study and subsequently on the goal of ovulation induction and live birth in these women."
Dr Stewart added: "It is heartening to see researchers are applying new knowledge to consider new treatments."