Many hospitals not using new stillbirth care guidelines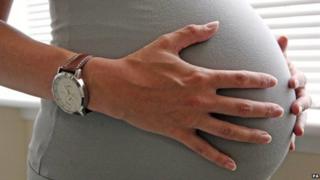 Up to 25% of British hospital trusts have not adopted new care standards to help prevent stillbirths, although experts say they save lives.
By monitoring the foetus's growth throughout pregnancy, doctors can choose an earlier delivery time to give the baby the best chance of survival.
One expert told BBC Radio 5 live that stillbirth rates had been reduced.
The NHS said it had not "been aware that so many stillbirths were avoidable".
GAP was developed by the Perinatal Institute and introduced last autumn 2013.
Institute director Prof Jason Gardosi said his team's methods had reduced the rate of stillbirths in the West Midlands, parts of Yorkshire and north-east England.
The monitoring can show poor growth rates before a baby is born, which have been identified as a critical factor in stillbirth rates.
Stillbirths in the West Midlands have fallen by 22% since the scheme was adopted.
Overall, Prof Gardosi said national rates of stillbirth in England have fallen to their lowest ever level.
Follow suit
Prof Gardosi said: "With the GAP protocol in the West Midlands and other parts of the country we achieved better ante-natal recognition of foetal growth problems which we believe is an indicator of the effectiveness of the service.
"The good part of the story, which I would like to emphasise, since October last year as many as three-quarters have implemented the protocol, or are intending to do so. We are hoping the rest will follow suit."
He said out of the 168 trusts and health boards across the UK, 86 had already implemented the GAP protocol, while 12 said they intended to and 31 had expressed an interest.
Dr Catherine Calderwood, the national clinical director for maternity and women's health at NHS England, told 5 live: "We really were not aware that so many stillbirths were avoidable.
"There's increasing awareness we should be doing more to prevent stillbirths and Prof Gardosi's work has been published very recently and NHS England has new strategic clinical networks for maternity and children and all of those networks have taken on the reduction of stillbirth as one of their top priorities and as part of the GAP protocol is being adopted throughout the country."
Since 1992 a stillborn baby has been defined as a baby that dies after 24 weeks or more in the womb. This affects one in every 200 births in the UK - which means around 11 babies are stillborn every day.
In other high-income countries, such as Norway and the Netherlands, stillbirths are less than half of Britain's rate. However Norway uses a different definition of stillbirths.