Better Care Fund 'needs long-term clarity'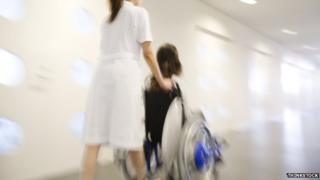 A £3.8bn scheme aimed at integrating health and social care services needs more clarity over its long-term future, local councils have said.
The Local Government Association called on ministers to the commit to the fund until 2020 "to avoid the care system spiralling towards a deeper crisis".
The government says it has made clear to councils the Better Care Fund is intended to last longer than one year.
It aims to cut hospital admissions in England and allow more home treatment.
The scheme is also designed to allow greater support to people being discharged from hospital, prevent unnecessary admissions at weekends and reduce the number of people in residential care.
The Local Government Association (LGA), which represents councils, said authorities had already pooled £5.4bn for the scheme's first year, more than the Department of Health's £3.8bn minimum requirement.
However, LGA chairman Sir Merrick Cockell said: "It is indisputable that in order to improve the lives of older and vulnerable people in this country there is a need for significant changes to the way that social care is funded.
"A five-year commitment to join up funding between health and social care would provide the certainty and stability required to transform care services for the people who need and rely on them."
The NHS will contribute £1.9bn a year to the fund to support joined-up working between health and social care services from next April.
'Not credible'
However, a report by health think tank the King's Fund has said financial pressure on the NHS is being "exacerbated" by the introduction of the fund.
Recent reports also suggested the move would be delayed because Whitehall believed the plans were not credible enough.
A government spokeswoman said: "We have already been clear that pooled budgets are likely to be an enduring part of the health and care system, with ministers on the record saying that areas should plan on the basis that this is more than a one-year programme.
"Decisions on future funding will be made at the next spending review in the normal way, but in the meantime the Better Care Fund is already kickstarting the process of joining up health and social care across the country and areas have a big job to do in making this work from next April."