'Bad drivers' delaying ambulances, say paramedics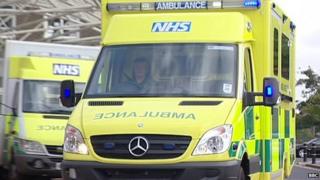 Patients' lives are being put at risk by bad drivers who delay ambulances, according to the College of Paramedics.
Mobile-phone use, blaring music and a general lack of awareness is making it harder for ambulances to get through traffic, it says.
Despite the sirens and flashing lights, many motorists just do not get out of the way.
Executive officer Martin Berry said many drivers had become desensitised to emergency vehicles.
He said it was becoming increasingly difficult for ambulances to make it to emergencies.
Speaking to BBC Radio 5 live's Breakfast programme, he said: "Every second counts. Delaying the journey of an ambulance can mean a matter of life and death.
"A patient who isn't breathing has four minutes before brain damage occurs. We need to respond to 999 calls as soon as possible."
Paramedics have reported some drivers tailgating them through parting traffic and others jumping red lights.
Mr Berry says it is the responsibility of the public to take the correct action.
"The advice is simple. If you hear sirens and see an ambulance. You need to pull over to the left and come to a complete stop," he said.
But Peter Rodger, head of driving standards at Institute of Advanced Motorists, said that drivers could be penalised if they broke the rules when they moved out of the way, for example, by using a bus lane.
"The standard advice is that you can carry on and comply with the law, and let the emergency vehicle work around you, using whatever exemptions it has available to it. It leaves people with a quandary, and they have to make their own decision," he said.
The Department for Transport said drivers should take appropriate action to let ambulances pass and could use CCTV as evidence to overturn traffic offences caused as a result.
BBC Radio 5 live's Breakfast programme spent the day with Dean Jay a paramedic with 16 years' experience driving an ambulance.
He said: "Obviously, our priority is to get to an emergency as quickly as we can.
"However, we do depend on the cooperation of other road users and over these years it has got harder for us to make progress.
"It seems that the public are either not familiar with what to do, or unwilling to help us."