Hospital feed company 'saddened' by baby death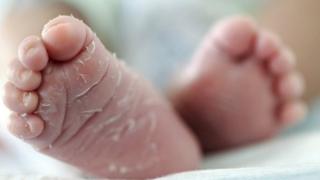 The manufacturer of a hospital feed "strongly linked" to the death of one baby and illness of 17 others has said it is "saddened" by what has happened.
ITH Pharma managing director Karen Hamling said it was co-operating fully with an inquiry by health officials.
The baby died from blood poisoning at St Thomas' Hospital in south London from suspected contaminated drip food.
Public Health England said babies at six hospitals developed septicaemia from the Bacillus cereus bacterium.
'Establish facts'
Ms Hamling said in a statement: "ITH Pharma is very saddened to hear about the death of a baby in hospital, and that 17 others are ill with septicaemia.
"ITH Pharma is a specialist manufacturer of parenteral nutrition, which is given to babies in neonatal intensive care units.
"The products in question, which are no longer in circulation, are made to order for individual patients on a daily basis, in response to bespoke orders from hospitals.
"We are co-operating fully with the MHRA (Medicines and Healthcare products Regulatory Agency) in the investigation, and are doing everything we can to help them establish the facts in this case as quickly as possible."
Public Health England (PHE) said the cases were "strongly linked" with a number of batches of a particular form of the intravenous liquid made by the London-based company.
Paul Cosford, PHE's director of health protection, told BBC Radio 4's Today programme that a possible point when contamination entered the products last week had been identified. They are believed to have been made on Tuesday 27 March.
Fed into bloodstream
The baby died on Sunday after being diagnosed the previous day.
The babies affected, many of whom were premature, were being cared for in neonatal intensive care units and were given the feed direct to their bloodstream as they could not be fed by mouth.
The cases were reported at:
Chelsea and Westminster NHS Trust, London (four)
Guy's and St Thomas's NHS Foundation Trust, London (three)
Brighton and Sussex University Hospitals NHS Trust (three)
Addenbrooke's, Cambridge University Hospitals (two)
Luton and Dunstable University Hospital (two)
The Whittington Hospital, London (one)
Peterborough City Hospital (one)
Southend University Hospital (one probable case)
Basildon University Hospital (one possible case)
The hospitals said the surviving babies were responding well to antibiotics and their parents had been informed.
An investigation has been launched by PHE and the MHRA.
PHE said inquiries with ITH Pharma had identified "an incident that might have caused the contamination".
A PHE spokeswoman said: "Many of the babies were premature and very vulnerable and one baby has sadly died but the others are responding to antibiotic treatment."
ITH Pharma has launched a product recall to which the MHRA has issued an alert to hospitals.
---
Bacillus cereus
A type of bacterium that produces toxins that cause two types of illness
The most common form causes nausea and vomiting
The symptoms may start one to six hours after eating contaminated food
The poison is not passed from one person to another and symptoms do not usually last longer than a day
Less common is an illness which causes fever and diarrhoea
These symptoms, which may be serious, usually start six to 24 hours after eating and can last for one or two days
---
PHE said doctors had been given advice on identifying any potential cases of infection and how to dispose of affected stock.
PHE incident director Professor Mike Catchpole said: "Given that the bacteria is widely spread in the environment, we are continuing to investigate any other potential sources of infection. However, all our investigations to date indicate that the likely source of the infection has been identified.
"We have acted quickly to investigate this issue alongside the MHRA and we have taken action to ensure that the affected batches and any remaining stock of this medicine is not being used in hospitals."
'Rigorous inspection'
Adam Burgess, manager of the MHRA's defective medicines reporting centre, said: "We have sent inspectors to the manufacturer's facility to carry out a detailed and rigorous inspection and we have ensured that the potentially affected medicine is recalled."
Officials said they were not expecting any more cases.
Dr Martin Ward Platt, of the Royal College of Paediatrics and Child Health, said blood poisoning caused by Bacillus cereus was extremely rare.
"Any baby developing such a serious infection can suffer from fever, pauses in their breathing and vomiting, amongst other symptoms," he said. "It is very important to treat suspected infections as early as possible as they can be fatal."
"It seems that the recently reported infections, and a tragic death, have been associated with an intravenous feeding product.
"The immediate response has been for the affected hospitals to stop using the product, and it is generally easy for them to switch to alternative suppliers so that babies who need intravenous feeding do not go without it for a prolonged period.
"Naturally, parents whose babies are in intensive care anywhere in the country may be concerned and if so I would urge them to talk to the doctors and nurses looking after their baby."