Luis Suarez injury: How did striker recover so quickly?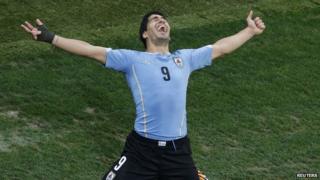 Last month Luis Suarez was photographed in a wheelchair after knee surgery. The Uruguay striker's two goals in Sao Paulo left England on the verge of a World Cup exit. How did he recover so quickly?
Suarez injured his left knee while training for the World Cup and an MRI scan on 21 May found some damage to the meniscus.
The 27-year-old Liverpool star had keyhole surgery soon afterwards.
Although he missed his country's opening match in Brazil - which they lost - he was ready to face England on Thursday.
A common sports injury, particularly in footballers, a tear to the meniscus can take up to six weeks to heal.
There are two menisci within each knee, and these are essentially pads of cartilage or tough, flexible tissue.
The menisci are cup-shaped and sandwiched between the bones of the lower and upper leg.
They help to stabilise the knee joint and act as shock-absorbers.
Adrian Wilson, a specialist knee surgeon with Hampshire Hospitals NHS Foundation Trust, is not overly surprised by Suarez's speedy return.
There are other examples of athletes who have had this type of knee surgery and made similarly fast recoveries, he says.
"It is possible to do minor, tidy-up-type surgery and to be back performing at a high level within a few weeks."
Ian McDermott, a knee surgeon with London Sports Orthopaedics, takes a different view. He says Suarez's recovery is "bonkers".
"To be playing the way he did within four weeks of surgery is unheard of."
But there may be some long-term implications, he suggests.
"As a football manager you'd be delighted by his recovery but as a doctor you'd be horrified. It leaves him very vulnerable in the future."
By playing football regularly with a trimmed or damaged meniscus he could run the risk of getting arthritis in his knee, or suffering more serious knee problems, in the future, Mr McDermott says.
'Fitness level helps'
The operation would have involved an arthroscopy of the knee, also called keyhole surgery.
This is a relatively minor procedure, performed under a general anaesthetic, and normally lasts about half an hour.
There is no indication as to how serious the striker's injury was.
However, Mr Wilson says surgery which involved repairing the meniscus - rather than simply trimming it - would have been more lengthy and complex and would have resulted in a longer lay-off.
Either way, Suarez's high fitness levels would have helped his recovery.
Dr Kal Parmar, a sports physician at University College London's Institute of Sport, Exercise and Health says Suarez's injury must have been operated on very quickly, within a day or two of the injury.
Physiotherapy and strength conditioning would then have played a key part in his recovery after surgery.
"The focus at that stage is on controlling the swelling and increasing the function of the knee joint," he explains.
"Suarez is very well conditioned anyway and his muscles are in good shape. He must have flown through rehab.
"I wouldn't say he looked like he had a knee injury in the game."
For an "ordinary mortal", rather than a fit international footballer, at least six weeks would be needed to return to a normal level of basic activity - even after minor surgery.
Ironically, a calf strain or pulled hamstring - also common football injuries but which cannot be resolved quickly by surgery - would have taken much longer to heal and would probably have kept him out of the whole tournament.
Suarez was taken off on a stretcher before the end of the match, visibly tired and clutching his left leg.
It was no surprise that he was not 100% fit after several weeks of rest and rehabilitation.
Yet, depressingly for England supporters, he still found the energy and resilience to all but extinguish their World Cup hopes.