Mobile phones carry owners' bacterial 'fingerprint'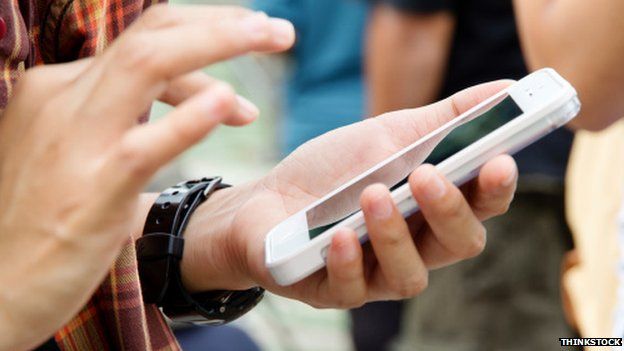 Smartphones reflect the personal microbial world of their owners, say US scientists.
More than 80% of the common bacteria that make up our personal bacterial "fingerprints" end up on their screens, a study suggests.
Personal possessions, such as phones, might be useful for tracking the spread of bacteria, they report in PeerJ.
They reflect our microbiome - the trillions of different micro-organisms that live in and on our bodies.
Mobile phone users have been found to touch their devices on average 150 times a day.
Scientists have found an overlap between the collection of micro-organisms naturally present on our bodies and those on the screens of smartphones.
They say this could one day be used to track people's exposure to bacteria.
In the study, biologists from the University of Oregon sequenced the DNA of microbes found on the index fingers and thumbs of 17 people.
They also took swabs of the subjects' smartphones.
A total of 7,000 different types of bacteria were found in 51 samples.
On average, 22% of bacterial families overlapped on fingers and phones.
Some 82% of the most common bacteria present on participants' fingers were also found on their phones.
They included three families that are commonly found on the skin or in the mouth - Streptococcus, Staphylococcus and Corynebacterium.
Men and women both shared bacteria with their phones, but the connection was stronger in women.
Lead researcher Dr James Meadow said while the sample size was small, the findings were "revealing".
"This project was a proof-of-concept to see if our favourite and most closely held possessions microbially resemble us," he said.
"We are ultimately interested in the possibility of using personal effects as a non-invasive way to monitor our health and our contact with the surrounding environment."
The researchers say there is no evidence that mobile phones present any more infection risk than any other possession.
But they say our phones might one day be used to study whether people have been exposed to certain bacteria, particularly healthcare workers.
The study confirms that "we share more than an emotional connection with our phones - they carry our personal microbiome", Dr Meadow added.
There is increasing scientific interest in the human microbiome - the population of trillions of micro-organisms that live in our gut, mouth, skin and elsewhere on our bodies.
Bacteria can be harmful but they can also have beneficial effects, particularly in the gut, by digesting food and making essential nutrients and vitamins.
Related Internet Links
The BBC is not responsible for the content of external sites.