Headbanging can cause brain injury, say German doctors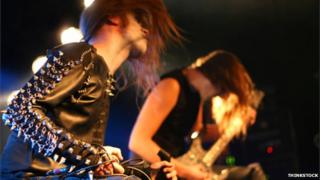 German doctors are highlighting the dangers of headbanging after a 50-year-old man developed bleeding in the brain following a Motorhead concert.
The man complained of a constant headache when he was treated by Hannover Medical School neurosurgeons four weeks after the rock concert.
A scan revealed a blood clot on the right side of his brain, which surgeons removed successfully.
A brain-injury charity said the case was "very unusual".
Writing in the Lancet, Dr Ariyan Pirayesh Islamian and colleagues from Hannover Medical School said the man - who wanted to remain anonymous - had no history of head trauma and denied misusing drugs or alcohol, when he was referred to them in January 2013.
But he did say he had been headbanging at a heavy metal concert several weeks previously.
Speed metal
Headbanging is a violent and rhythmic movement of the head in time with rock music, most commonly heavy metal.
It was first seen in the early 1970s and Motorhead were one of the bands who popularised the practice with the invention of "speed metal" - fast tempo songs with a rhythm of up to 200 beats per minute.
In their case report, the German authors said that while such music could be fun, "some fans might be endangered by indulging in excessive headbanging".
Only three other cases of subdural haematoma (or bleeding in the brain) have been linked to headbanging.
In this case, after draining the blood clot in the patient's brain, doctors found a cyst close to the clot, which would have made his brain more susceptible to haemorrhage.
The German doctors concluded: "We assume that headbanging, with its brisk forward and back acceleration and deceleration forces, led to rupturing of bridging veins causing haemorrhage into the subdural space."
They also said there could be more cases of this type of brain injury that only cause mild headaches.
They added: "This case serves as evidence in support of Motorhead's reputation as one of the most hardcore rock'n'roll acts on Earth, if nothing else because of their music's contagious speed drive and the hazardous potential for headbanging fans to suffer brain injury."
'Highly unlikely'
Headbanging has been linked to other health complications such as neck and spine injuries - but is generally considered to be harmless.
Luke Griggs, from Headway, the brain-injury association, said: "Repeated aggressive movement of the head can lead to damage being caused to the brain as it moves inside the skull, but it's fair to say this is a very unusual case.
He also said it "would be highly unlikely for a person to sustain a haematoma from headbanging at a concert".
"However, we strongly recommend that anyone who suffers a constant, worsening headache for an extended period of time - having been to a concert or otherwise - should seek medical advice."