The UK's small rural GP surgeries fear for their future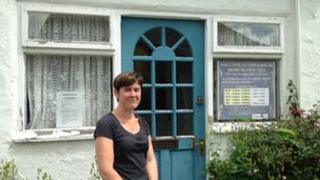 GPs running small practices in isolated rural parts of the UK say they fear for their future.
The Royal College of GPs' Rural Forum claims recruitment and workload issues could result in some surgeries going the same way as village post offices.
The Forum accepts that its 800 members will need to find new and imaginative ways of working.
NHS England says better use of new technology and pooling administration could help many rural practices.
And the Scottish Government is beginning a bespoke recruitment campaign for rural GPs.
Lakes
Dr Kaye Ward shows me around the surgery she runs with a job-share partner at Hawkshead in the heart of the Lake District.
Paint is peeling from the window frames, and there has just been a leak above the small bathroom.
Despite the somewhat dilapidated premises, which are the subject of an ongoing row, the surgery gets high scores in patient satisfaction surveys.
Two hoteliers are at the morning surgery - one to have his ears syringed, and his wife for a smear test.
Both procedures would be done by a nurse in a bigger surgery, but Dr Ward has to be versatile. There is no practice manager either.
Hawkshead has just 1,100 patients and although this swells with holidaymakers in the summer, a small population list gives less scope for raising income.
Dr Ward told me: "I think we will last another year or two here - maximum. It's a horrible thing to be thinking about.
"We don't want to leave people without a service, but it needs to be a viable and supported one which supplies all the things our patients need."
'Struggling to cope'
The chair of the Royal College of GPs rural forum, Malcolm Ward (no relation), was based in Derbyshire for many years before moving to the Kintyre peninsula in western Scotland, where the nearest main hospital is four hours away.
He says factors such as inadequate broadband links add to the sense of isolation.
Dr Ward told me: "There are many rural practices across the UK which are under-staffed and struggling to cope with the workload.
"And some remote areas of Scotland have practices entirely run by locums.
"This is simply not sustainable. It's very costly and not in the best interests of patient care."
A Scottish Government spokesman said: "Recruiting GPs into remote and rural locations is always a difficult task and we completely understand the frustration this is causing within local communities that are without a permanent GP.
"For example, we have supported NHS Highland with £1.5m of funding over four years, to develop and test innovative ways of delivering healthcare in rural Scotland.
"We are developing a bespoke recruitment exercise, with the support of a marketing expert, that will be in place by the summer."
New ideas
Nigel Edwards, who runs the Nuffield Trust health think tank, says some countries pay a rural subsidy - but in general there aren't any simple solutions.
He told me: "These rural practices are having problems across the whole of Europe. They're probably not economic.
"There are opportunities to do more work over the phone than we do in general practice at the moment.
"It might be attractive to use call centres and other such mechanisms to support rural general practice.
"But then you lose the real advantage they get from the fact that they know their patients really well and understand their needs."
Dr Mike Bewick, deputy medical director for NHS England, said: "As a GP working in Cumbria for over 20 years, I know there is no single blueprint for primary care.
"What's right for a community in Birmingham will not be right for communities in Northumberland.
"Emerging findings from NHS England's work on developing primary care show acute access centres, greater use of care co-ordinators, improved use of telehealth, telemedicine and virtual wards, and pooling back office resources all help address some of the issues faced by rural primary care."