Failing GP practices face closure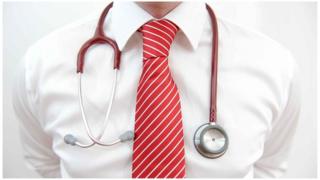 Failing GP practices will face closure under plans being unveiled in England.
The Care Quality Commission confirmed the sanction as they announced the special measure regime being used for hospitals will be extended to GPs.
It is effectively the first time there will have been a national failure regime for the profession.
Practices given the bottom rating - inadequate - will get six months or a year to resolve problems before facing being shut down.
Prof Steve Field, the CQC's chief inspector of GPs, said: "Most GP practices provide good care.
"But we can't allow those that provide poor care to continue to let their patients have an inadequate service."
The failure regime is being accompanied by a new system of inspections - something that has already been announced.
'Poor care'
This is getting under way in October and will involve nearly 8,000 practices being inspected by March 2016.
Each surgery will be given a rating of either outstanding, good, requires improvement or inadequate.
To date, they have just had to report whether they are compliant with a set of core standards.
---
How the failure regime will work
GP practices given an inadequate rating by the CQC will be given six months to improve.
If after that they have not managed to move out of the bottom rating they will be placed in special measures and given another six months. Where there are extremely serious issues raised a practice can be placed straight into special measures.
During the time spent in special measures, practices will be given some support - yet to be defined - to turn themselves around. For hospitals that has involved being buddied with good trusts and having senior managers parachuted in.
Failure to improve while in special measure will lead to either the CQC withdrawing its registration or NHS England terminating its contract. In both cases the practice will not be allowed to continue as it is.
If this happens, one of two things can then happen for patients registered at that practice - either new GPs can take over or alternative local surgeries are found.
---
GP organisations gave the announcement a cautious welcome.
Royal College of GPs chair Dr Maureen Baker said: "Patients should expect high quality and consistent care from every GP practice and the vast majority of practices do an excellent job.
"But there is occasionally a very real variation in the quality of care provided and this must be addressed."
'Long time to wait'
However, she said in many of those cases they were struggling because of "factors beyond their control" such as a lack of funding, rises in patient demand or problems recruiting patients.
And Dr Chaand Nagpaul, of the British Medical Association, added: "It is right GPs are held to account, but in many circumstances failures are more about the environment they work in than the individual practice."
But Patients Association chief executive Katherine Murphy said: "It is about time we had something like this. But it does seem like a very long time for patients to be exposed to poor care while GP practices try to sort themselves out."
There is no comparable failure system in the other UK nations.