Genetic clues to spread of Ebola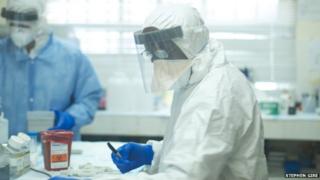 Scientists have tracked the spread of Ebola in West Africa, revealing genetic clues to the course of the outbreak.
Genetic analysis of patient samples suggests the virus spread from Guinea to Sierra Leone at a single funeral.
The virus is mutating and must be contained rapidly, warn African and US experts. But they say there is no evidence the virus is changing its behaviour.
The current outbreak is the largest ever, with more than 3,000 cases.
The number of cases could exceed 20,000 before the outbreak is stemmed, according to the World Health Organization.
"We've uncovered more than 300 genetic clues about what sets this outbreak apart from previous outbreaks," said Stephen Gire from the Broad Institute and Harvard University in the US.
"Although we don't know whether these differences are related to the severity of the current outbreak, by sharing these data with the research community, we hope to speed up our understanding of this epidemic and support global efforts to contain it."
The data, published in Science, suggests the virus made the leap from animals to humans only once in the current outbreak.
The strain emerged in Central Africa in the past 10 years, probably carried by animals such as fruit bats or primates.
The first human cases appeared in Guinea, then the disease spread to Sierra Leone, reportedly at the funeral of a traditional healer.
There is evidence the virus is mutating, "underscoring the need for rapid containment", the team writes in Science.
"The longer the outbreak happens, the more opportunity the virus has to accumulate mutations," Dr Gire told the BBC.
But he said there was no evidence at present that the virus was changing its behaviour and becoming better adapted to humans.
Commenting on the research, Prof Jonathan Ball, a virus expert at Nottingham University, said: "Clearly this virus is evolving, but what's not clear is whether or not the mutations it's accumulating affect the way it behaves."
The genetic samples came from 78 patients at a hospital in Sierra Leone who were infected in May and June.
These were compared with existing virus samples from Guinea.
Five of the 58 experts named on the paper died from Ebola in Sierra Leone during the study.