E-cigs refills 'threat to children'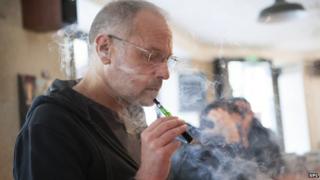 Parents need to keep electronic cigarette refills away from young children because of the risk of poisoning, doctors in Birmingham say.
They issued the warning, in the medical journal Archives of Disease in Childhood, after a two-year-old girl accidentally licked some of the liquid.
The infant recovered, but high doses of nicotine can be lethal.
Doctors said parents should treat nicotine refills like white spirit, medicines and bleach.
There has been a surge in popularity of e-cigarettes, with more than two million people in the UK thought to use them.
However, there has been a similar boom in nicotine poisonings.
The National Poisons Information Service, part of Public Health England, said it had had 139 enquiries about nicotine last year, compared with 29 in 2012 and only 36 in the previous five years combined.
1. On some e-cigarettes, inhalation activates the battery-powered atomiser. Other types are manually switched on
2. A heating coil inside the atomiser heats liquid nicotine contained in a cartridge
3. Liquid nicotine becomes vapour and is inhaled. The "smoke" produced is largely water vapour. Many e-cigarettes have an LED light as a cosmetic feature to simulate traditional cigarette glow.
In the case at Good Hope Hospital in Birmingham, a two-year-old put the refill in her mouth and is thought to have licked a few drops of liquid before the mother could whip the bottle out.
The infant vomited and was taken to hospital as a precaution, where she recovered.
Signs of poisoning include:
burning in the mouth and throat
high or low blood pressure
too fast or too slow a heartbeat
nausea
confusion
dizziness
weakness
excess spittle
Dr Sanjay Gupta, from the department of paediatrics at Good Hope Hospital, told the BBC: "Everywhere you go there's e-cigs and vapour bars, more and more children are coming into contact with small bottles full of concentrated liquid nicotine.
"Parents ideally should stop smoking, but as a minimum they should store bottles very careful like we store medicines or white spirit, we should store them away from children, this is not simply a harmless liquid."
About 40mg of nicotine is thought to be a lethal dose in adults. Much smaller doses would be lethal in children.
Dr John Thompson, director of the Public Health England commissioned National Poisons Information Service Unit in Cardiff, said: "While any cases of poisoning are of concern, our previous research showed that fortunately fewer than one in 10 of patients developed symptoms of toxicity which lasted more than four hours and only two patients had long lasting symptoms.
"E-cigarette usage has increased significantly in recent years. The liquid found in e-cigarettes can be very harmful and I would urge anyone who uses e-cigarettes to make sure that the liquids are stored safely, and in particular away from children."
In a statement, the Electronic Cigarette Industry Trade Association said current regulations were "very robust" but called for parents to be more aware.
"We encourage consumers to inform themselves about the products they are purchasing, to always read the labels and only use as directed.
"It is worth remembering that some e-cig parts can be a potential choking hazard for small children."
Philip Le Shirley, product safety adviser at the Royal Society for the Prevention of Accidents, said: "Nicotine is a toxic substance and poisonous to children. This is why it is important to treat electric cigarettes and their components in the same way as you would household chemicals, by storing them out of the sight and reach of children.
"If you believe that your child has ingested nicotine, seek medical advice immediately."