Green light for new skin cancer drug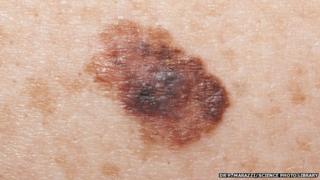 A new drug to treat skin cancer should be made available on the NHS, a health body has recommended.
The National Institute for Health and Care Excellence (NICE) has given the green light to a drug that can help some patients with advanced melanoma.
Dabrafenib (Tafinlar) is one of a new generation of cancer drugs that target specific gene mutations.
NICE said the drug should be made available provided that it was sold to the NHS at a discount.
The drug should be used for patients whose cancer had spread or could not be completely removed by surgery and who had tested positive for the mutation, it said in final draft guidance.
The drug, which targets cancer cells with the BRAF V600 mutation, can block the growth of the cancer.
NICE has already recommended vemurafenib, which targets the same mutation, and the monoclonal antibody ipilimumab for advanced melanoma.
Prof Carole Longson, director of the Centre for Health Technology Evaluation at NICE, said: "For a long time, the treatments available for skin cancer which has spread have been very limited.
"However, in recent years a number of breakthrough treatments that can potentially significantly improve the prognosis for some people with malignant melanoma have become available.
"NICE has already recommended vemurafenib and ipilimumab and we hope to add dabrafenib to the list of options available."
Prof Paul Workman, interim chief executive of the Institute of Cancer Research, welcomed the decision.
"Its approval underlines the importance of a new generation of cancer drugs targeted at specific molecular features of tumours - drugs which after years of painstaking development are now making their way to patients."
Prof Peter Johnson, Cancer Research UK's chief clinician, said: "This decision provides patients with more options to help them survive this aggressive cancer for longer.
"While the drug does not provide a cure, it represents the progress made in our understanding of biology in advanced skin cancer and how this can be used to develop innovative treatments to treat the disease."
Malignant melanoma is the fifth most common cancer in the UK, accounting for 4% of all new cases.