Obesity is the new smoking, says NHS boss in England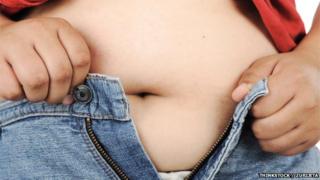 Obesity is the new smoking in terms of the impact on health and the cost to the NHS, the head of the NHS in England says.
A quarter of adults - up from 15% 20 years ago - and one in five schoolchildren is obese, figures show.
The problem is estimated to already cost the NHS £9bn a year.
But NHS England chief executive Simon Stevens said if obesity rates kept rising it could even threaten the sustainability of the health service.
Someone with a body mass index (BMI) - a height-weight ratio - of more than 30 is considered to be obese, according to NHS Choices.
Speaking to the Public Health England annual conference in Coventry on Wednesday, Mr Stevens said: "Obesity is the new smoking. It represents a slow-motion car crash in terms of avoidable illness and rising health care costs.
"If, as a nation, we keep piling on the pounds around the waistline, we'll be piling on the pounds in terms of future taxes needed just to keep the NHS afloat."
He said, unchecked, the result of growing obesity rates would be a "huge rise" in disability and illness, such as type two diabetes.
His comments come ahead of the the publication of his five-year plan for the NHS next month.
One of the proposals being discussed is whether more should be spent on lifestyle intervention programmes rather than bariatric surgery and offering incentives to employers to get them to encourage their staff to become healthier.
The NHS, in particular, should take a lead on this with staff becoming "health ambassadors" in their local communities, it has been suggested.
Another option under consideration is giving local councils extra powers to make local decisions about issues such as fast food, alcohol and tobacco.
Professor Jonathan Valabhji, national clinical director for obesity and diabetes, said: "Obesity is a significant and wide scale public health issue all age groups and an issue the NHS as a whole is dedicated to tackling.
"We are seeing huge increases in type two diabetes because of the rising rates of obesity, and we clearly need a concerted effort on the prevention, early diagnosis and management of diabetes to slow its significant impact not only on individual lives but also on the NHS."