Nobel Prize winner John O'Keefe concerned over immigration policy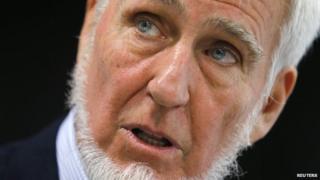 Nobel Prize winner John O'Keefe has warned the UK government that policies on immigration and animal research are risking Britain's scientific standing.
The US-born neuroscientist won the prize for rat research into the brain's inner "GPS system".
He said immigration rules were "a very, very large obstacle" to hiring the best scientists, and animal testing rules could prevent vital research.
The government said top foreign scientists were able to work in the UK.
Prof O'Keefe, 74, was awarded the Nobel Prize for physiology or medicine on Monday.
He showed in 1971 that a set of nerve cells became activated whenever a rat was in one location in a room. A different set of cells were active when the rat moved to a different area.
He argued these "place cells" - located in the hippocampus - formed a map within the brain.
'More welcoming'
Prof O'Keefe, a dual British-US citizen, started his career at McGill University in Canada before moving to University College London.
He has to recruit 150 neuroscientists in his role as the director of the new Sainsbury Wellcome Centre for research into neural circuits and behaviour.
"The immigration rules are a very, very large obstacle.
"I am very, very acutely aware of what you have to do if you want to bring people into Britain and to get through immigration, I'm not saying it's impossible, but we should be thinking hard about making Britain a more welcoming place."
Prime Minister David Cameron has pledged to reduce net migration to less than 100,000 a year by 2015, while Home Secretary Theresa May has spoken about reducing it to tens of thousands.
Prof O'Keefe added: "Science is international, the best scientists can come from anywhere, they can come from next door or they can come from a small village in a country anywhere in the world - we need to make it easier.
"Britain punches way above its weight in science and I think we need to continue to do that and anything that makes it easier to bring scientists in will be very welcome."
'Diverse culture'
The 74-year old told BBC Radio 4's Today programme that he decided to move to the UK because he was "very attracted to many aspects of British culture".
He said: "I was attracted by the BBC, I thought it was a terrific institution and still do, the NHS and the Ordnance Survey map.
"I like walking on the weekends and finding my way around and I was also attracted by the diverse culture."
He is also concerned about the future of animal research in the UK.
His Nobel Prize-winning studies involved monitoring the brain cells of rats.
The government aims to cut the amount of animal research in its "replace, refine and reduce" strategy - known as "the 3Rs".
The minister in charge of regulating animal experiments, Norman Baker, says he wants to see an end to all testing.
Prof O'Keefe said there was now a healthy climate of debate around animal research in the country.
But he told the BBC: "It is an incontrovertible fact that if we want to make progress in basic areas of medicine and biology we are going to have to use animals.
"There is a worry that the whole regulatory system might begin to be too difficult, it might be constrictive."
A Home Office spokesman said: "The UK is open to the brightest and best, including talented scientists and engineers, and it is wrong to suggest our policies prevent companies appointing the skilled workers they need.
"Whilst the government has not shied away from taking tough action on abuse, the number of genuinely skilled people coming to the UK to fill skilled vacancies is on the rise."
He said a new "exceptional talent" visa meant "world leaders" in science, engineering, humanities and the arts were able to work in the UK.