Hospital visits due to smoking have fallen in England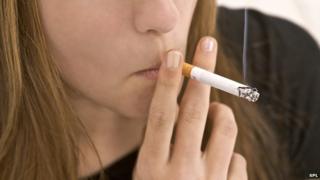 The number of people aged over 35 admitted to hospital in England due to smoking between 2012 and 2013 has fallen since 2004, statistics show.
Around 460,900 admissions were attributed to smoking between 2012 and 2013 compared to 559,800 between 2004 and 2005.
Less than a quarter of 11 to 15-year olds reported smoking at least once in 2013, the lowest rate since 1982.
The stats were released by the Health & Social Care Information Centre (HSCIC).
The number of young teenagers who have tried smoking has been declining since 2003, when 42% of pupils had tried smoking, it said.
Hospital
The major causes of admissions were circulatory diseases, cancers and respiratory disease.
Around 81% of all hospital admissions for lung, trachea and bronchus cancers were attributable to smoking, said the centre.
Between 2008 and 2009, 75% of smokers reported trying to give up at some point in the past year.
The cost of cigarettes rose 80% in the decade from 2003.
HSCIC's figures follow statistics by the Office for National Statistics which show the number of smokers in the UK fell to 18.7% last year from 19.8% in 2012.
Women were less likely than men to smoke, the statistics showed.