NHS staff strike in dispute over pay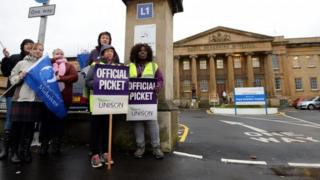 Thousands of health workers, including nurses, midwives and ambulance staff, have taken part in the first strike over pay for more than 30 years.
But disruption was minimised after unions agreed staff would make sure emergency care was covered.
Workers from seven trade unions took part from 07:00 to 11:00 BST in England, while two unions were involved in Northern Ireland.
The strike is being followed by four-days of work-to-rule from Tuesday.
This is expected to involve staff refusing to do overtime without extra pay and insisting on taking their breaks.
The full picture has yet to emerge about how much disruption was caused by Monday's walkout - although no major incidents have been reported.
In advance, unions and managers had met to ensure essential services were maintained.
Military personnel and police were also on hand to help ambulance services where needed.
As the walkouts progressed, reports emerged of ambulance services developing backlogs - but bosses said life-threatening cases were prioritised.
The striking unions
Name
Staff groups
Number of members
Unison
Nurses, healthcare assistants, ambulance staff and porters
250,000 in England
GMB
Nurses, healthcare assistants, ambulance staff, porters, admin workers and cleaners
22,000 in England and Northern Ireland
Unite
Nurses, healthcare assistants, ambulance staff, porters and admin
92,000 in England and Northern Ireland
Royal College of Midwives
Midwives
22,000 in England
UCATT
Maintenance staff
480 in England
British Association of Occupational Therapists
Occupational therapists
24,000 in England
Managers in Partnership (part of Unison)
Mostly middle-grade managers
4,000 in England
Meanwhile, hospital staff were seen leaving the picket lines to deal with patients in some places.
Union leaders had always said their members will be providing "life and limb" cover during the strike.
The expectation was that 999 calls would be answered and A&E units would remain open and that seems to have been the case, according to reports.
However, hospital outpatient appointments, community clinics and some routine operations seem to have been affected.
The Royal College of Midwives, which is taking action for the first time in its history, said in advance services for women giving birth were going to be unaffected. Instead, its members targeted antenatal and postnatal care.
Doctors and dentists were not involved. NHS sources said about 5% of staff who were expected in work did not turn up, although unions had always maintained the numbers not working would not reflect the strength of support across the workforce.
Rehana Azam, national officer of the GMB union, said: "Reports from across the country are that the strike action was rock solid. Members are determined to get government to listen to them."
Pay dispute
Unison said the action - the first strike by NHS staff over pay in more than 30 years - would send a "clear message" to the government.
As well as the RCM, there were another six unions involved in the strike in England - Unison, Unite, GMB, UCATT, the British Association of Occupational Therapists and Managers in Partnership. Between them they have over 400,000 members, including porters, cleaners and administration staff.
In Northern Ireland, members of Unite and the GMB staged a walkout from 11:00 to 15:00 BST.
Ministers in England have awarded NHS staff a 1% increase, but only for those without automatic progression-in-the-job rises.
These, designed to reward professional development, are given to about half of staff, and are worth 3% a year on average.
An independent pay review board had said the 1% increase should be across the board.
It was implemented in full in Scotland. Northern Ireland has yet to make a decision on pay, while Wales did the same as England but did give extra to the lowest paid. Some unions are balloting their Welsh members about action there.
From the picket line: Dominic Hughes, BBC News
A boisterous, noisy picket outside the Edwardian facade of the old Manchester Royal Infirmary has been made up of nursing assistants, porters, paramedics and for the first time in their history midwives.
Plenty of cars are tooting their support as they pass on Manchester's busy Oxford Road.
Inside the hospital some services will be affected, and a number of midwives have already left the picket to go to staff a ward that was short on numbers.
So this is a symbolic strike but one that displays the real anger of health workers over pay.
Health Secretary Jeremy Hunt said that hospitals would be forced to lay off staff if the recommended pay award was met in full.
"We have had very clear analysis that if we did that, hospital chief executives would lay off around 4,000 nurses this year and around 10,000 nurses next year," he said.
"The NHS has just come through a terrible tragedy with Mid Staffordshire when we discovered the most appalling care happening there and indeed some other hospitals as well.
"We have turned the corner on that by recruiting in hospital wards around 5,000 extra nurses in the last year alone. We don't want to turn the clock back on that."
Christina McAnea, head of health at Unison, said the offer in England was a "disgrace".
"The fact that so many unions representing a range of NHS workers are taking action or preparing to join future actions should send a clear message to the government," she said.
RCM chief executive Cathy Warwick added: "At a time when MPs are set for a 10% pay hike, we're told that midwives don't deserve even a below-inflation 1% rise. And politicians wonder why the public does not afford them more respect.
"It feels to a great many people, including midwives, that there is one rule for them and another rule for everybody else."