Canada to ship Ebola vaccine to WHO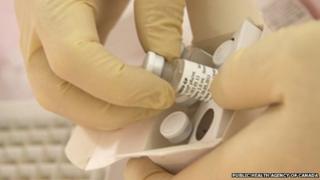 Canada is to ship 800 vials of its Ebola vaccine to the World Health Organization.
The jab can completely protect animals from a fatal dose of the Ebola virus. However, its safety and effectiveness in humans is unknown.
Trials began in the US this week and the WHO will conduct further tests in Europe and Africa.
The Public Health Agency of Canada said the vaccine could be an "important tool in curbing the outbreak".
The recent Ebola outbreak - the largest in history - has killed more than 4,500 people in West Africa.
By December, up to 10,000 people a week could be being infected by the virus, the WHO says.
There is no cure or proven vaccine, but a number of experimental approaches are being rushed through.
Ebola deaths
Figures up to 13 January 2016
11,315
Deaths - probable, confirmed and suspected
(Includes one in the US and six in Mali)
4,809 Liberia

3,955 Sierra Leone

2,536 Guinea

8 Nigeria
Getty
The Canadian vaccine, developed by the public health agency of Canada's National Microbiology Laboratory, combines fragments of Ebola virus with a non-fatal virus.
It should be enough to trigger the immune system to produce antibodies to attack Ebola, protecting against future infection.
'Ethical issues'
Clinical trials have started at the Walter Reed Army Institute of Research in the US but results are not expected until December.
Canada will begin shipping the 800 vials on Monday.
They will be sent in three batches as a precautionary measure. The vaccine must be packed in dry ice and kept at -80C in order to remain viable.
Further trials will take place in Germany, Switzerland and countries in Africa not hit by the Ebola outbreak.
Dr Gregory Taylor, the chief public health officer of Canada, said: "This vaccine, the product of many years of scientific research and innovation, could be an important tool in curbing the outbreak.
"We will continue to work closely with the WHO to address some of the ethical and logistical issues around using this experimental vaccine in the fight against Ebola."
Around a third of the total stocks of the vaccine will be kept in Canada for research or "compassionate use", the Canadian government said.
A separate vaccine is already being trialled in the US, UK and Mali.
It is being made by GlaxoSmithKline, which has warned the vaccine will "come too late" for the current epidemic.
Dr Ripley Ballou, the head of GSK's Ebola vaccine research, said full safety and effectiveness data would not be ready until late 2015.
"At the same time we have to be able to manufacture the vaccine at doses that would be consistent with general use, and that's going to take well into 2016 to be able to do that," he added.
"I don't think this can be seen as the primary answer to this particular outbreak."
Ebola facts
People can catch Ebola if they are in direct contact with the bodily fluids of an infected person or animal
Early symptoms include fever, muscle pain, headache and sore throat. This is followed by vomiting, diarrhoea and bleeding, sometimes from the eyes and mouth
The current outbreak started in March in west Africa, where the worst-affected countries include Guinea, Sierra Leone and Liberia
It is thought unlikely that the disease would spread if it did come to the UK because quarantine and communications are more developed than in parts of western Africa
There is no licensed Ebola vaccine but treatments are in development