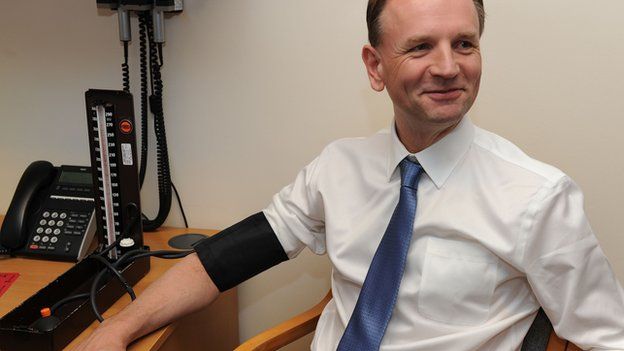 He has an annual budget of nearly £100bn and runs an organisation presiding over more than one million employees - more than double Tesco and Royal Mail's UK workforce combined.
Simon Stevens, head of NHS England, is one of the most influential figures on the policymaking landscape, but since he started his job in April he has kept a low profile.
That will all change this week when Mr Stevens sets out what's billed as his "five-year view" on how the NHS might respond and develop in the face of mounting challenges.
It's a speech as eagerly awaited by politicians as it is by NHS staff. All the three main Westminster parties have identified health as a priority for the general election campaign. The chief executive of NHS England will spell out some home truths for whoever forms the next government.
The funding gap facing the NHS has been much discussed. Simon Stevens is likely to give his interpretation and an update on the scale of the potential hole in England's health budget.
Demand for NHS care, partly because of a rising and ageing population, is likely to increase by 4% annually above inflation, while annual real increases in funding allocated by the government are likely to lag well behind. That results in a gap by the end of the next Parliament.
That gap has already been estimated by NHS England and think tanks such as the Nuffield Trust as about £30bn by 2020 - in other words the difference between the annual cost of providing the anticipated level of services required and the finances available, assuming no increase above inflation.
Expect more clarity, context and possibly updated numbers from the head of NHS England.
Thirty billion pounds sounds a lot. But its worth reminding ourselves that Mr Stevens's predecessor, Sir David Nicholson, highlighted a £20bn funding challenge five years ago. That seemed apocalyptic, but NHS insiders acknowledge that annual efficiency savings of that order will have been achieved by the end of this Parliament.
The NHS in England has, in effect, been doing more to keep up with rising demand within a budget that has not increased much after allowing for inflation. But can £30bn more of annual efficiency savings be clocked up by 2020?
That looks like a tall order for a service that seems to be struggling to make the sums add up for next year, never mind five years further on. Some health economists believe about half the £30bn might possibly be saved by more effective use of budgets. But that still leaves about £15bn to find. What Simon Stevens has to say on that will be especially interesting.
The NHS chief is likely to tell his audience that whoever is in government, spending on health will have to rise above inflation and in line with the economy by 2020. But Mr Stevens believes the answer is not just about more taxpayer's money. He will argue that the NHS must radically rethink how it meets the rising demands for care.
"Think like a patient, act like a taxpayer," is a favoured slogan from the head of NHS England. He will flesh out how that might work in practice - urging local health chiefs to break down barriers and work together is likely to be a key message.
Mr Stevens has already said that GPs, hospitals, community health services and social services must pool their thinking to provide joined-up care for patients. And each community or area may come up with different solutions.
Don't expect a blueprint or door-stopping document. His thoughts are likely to stretch to dozens rather than hundreds of pages. His speech this week will mark an end to top-down thinking in the NHS. Mr Stevens will set out the challenges and say the solutions are to be found locally rather than in Whitehall or Westminster.
Related Internet Links
The BBC is not responsible for the content of external sites.