NHS change is mood music at England's hip op capital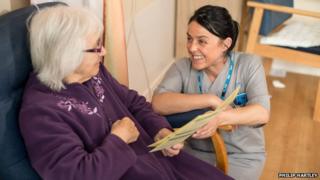 More change in the health service is likely as NHS England sets out its stall for the next few years. That may not be welcome in parts that are running to keep up, such as Poole Hospital in Dorset, but it is already making changes for the better.
Blocked from merging with a neighbouring hospital last year, Poole is spending more than it is earning - a deficit of almost £4m will be regarded as a good outcome this year.
The chief executive, Debbie Fleming, told me how the trust had been under huge pressure in recent months.
"Our attendances in A&E are up by 9% and our emergency admissions are up by 11%, compared with the same time last year.
"There was no sense of summer here - we'd hoped to close some winter beds at the end of March but we've had to keep around 35 beds open in the last few months to cope with demand.
"We're hearing similar stories across the country and I haven't found anyone who knows exactly why this is happening."
She says local GPs are also working flat out - and this is why the whole NHS system has to change.
However, staff at hospitals like Poole are trying new ways of working, to help patients and to cut costs.
Enjoyable experience
The Medical Investigations Unit is one of a handful in the UK led entirely by specialist nurses. Doctors rarely need to attend the unit.
A matron for medicine and cardiology, Geoff Walker, said: "We began with 30 patients a week in this unit - and we now see 300 a week.
"The routine work can be done just as well - and perhaps better - by a nurse."
Blood transfusions, antibiotic drips and liver biopsies are among the treatments given there to patients who come in just for the day.
They appear to have a surprisingly enjoyable experience in a room overlooking Poole Bay.
One patient told me: "I like it here - I look forward to coming in. Penthouse views - and the staff are marvellous."
And another special unit at the hospital, Race - or Rapid Access Consultant Evaluation - has also earned national praise.
This area, where the average age of patients is 85, is all about making sure older people get rapid attention from specialist doctors, who have built up partnerships with social service staff and therapists in the community.
Poole is used to the needs of an ageing population. It is England's busiest hospital for dealing with broken hips.
Consultant geriatrician Dr Matt Thomas often visits patients in their homes.
He said: "Our role is not to be wedded to the hospital but to see the patient where they need us. It's happening more often but isn't yet the norm."