Politicians line up to back NHS plan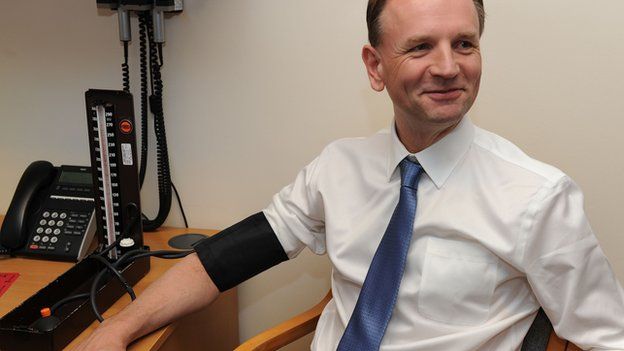 It used to be a rule of Budgets that good headlines on the day would be followed by scepticism as some elements of the original package unravelled under continued scrutiny.
But the Five Year View, unveiled last week by the head of NHS England Simon Stevens, seems so far to have escaped that fate.
There has not been serious criticism from either left or right of the political spectrum.
Commentators as politically far apart as Fraser Nelson of the Spectator and Daily Telegraph and Polly Toynbee of The Guardian found reasons to be positive about the Stevens' vision.
There has been no attempt to rubbish or contest the analysis.
Few would disagree that this was a clever piece of work, pitched above and beyond the recent political scraps over health.
Both the main parties found reasons to be pleased with what they heard from the leaders of the NHS in England.
Labour argued that the call for spending on health to increase annually by 1.5% above inflation was in line with its pledge to spend an extra £2.5bn per year.
The Conservative line was that Simon Stevens had underlined that the NHS was a success story even after controversial reforms and at a time of financial austerity.
George Osborne even let it be known that the spending increases requested by Simon Stevens were "conceivable".
Yes - you heard that correctly - the Chancellor is sympathetic to a real terms spending hike.
Aides went further and argued that the higher funding needed to plug an £8bn gap by the 2020 financial year was "achievable" and "realistic".
The Tory logic is that spending on the NHS England has risen over this parliament, so something a bit higher over the next five years is very possible when in theory the economy should be growing solidly.
And yet there are some "what ifs?" to be answered.
The first big imponderable is if the next government, confronted by other spending challenges, decides to water down or sidestep Mr Stevens' call for help with the £8 billion funding gap.
So what might Plan B look like?
The head of NHS England's response is that the level of his funding request is not out of line with historic increases for the NHS, ergo any reasonable government would go along with it.
The medical director Sir Bruce Keogh went further and warned of a risk of services being cut if funding increases did not materialise.
Even if the next government decided that annual increases of 1.5% in health spending should be guaranteed, they still have to be paid for.
The Institute for Fiscal Studies has warned before that if health spending is again protected from spending cuts, departments not afforded such protection would see reductions totalling a third between 2010 and 2018, which might be too painful to bear.
That calculation is based on a zero increase above inflation for health, never mind the real terms rise requested by Simon Stevens.
As Head of NHS England, Simon Stevens has a position at arms length from the Department of Health following the government's health service reforms in 2012.
He has used that position with political skill, sketching out a scenario and plan which seems acceptable to both sides at Westminster.
But whether it can be delivered by an NHS straining every sinew to achieve yet more efficiency savings and a government scratching around for funding is another matter altogether.
Related Internet Links
The BBC is not responsible for the content of external sites.