NHS calls for more blood donors over Christmas period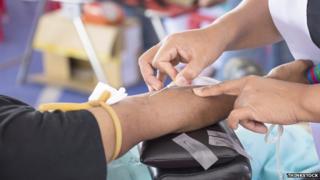 More than 200,000 blood donors are needed before Christmas, according to the NHS body in charge of transfusions.
NHS Blood and Transplant (NHSBT) says blood and platelets supplies can drop "dramatically" in winter.
Last year, one in five blood donor appointments was missed over the festive period.
Blood donations are used to treat patients with cancer, with anaemia, after accidents or childbirth complications, or during surgery.
The NHS is particularly keen to boost stock levels for the following blood groups, which are most vulnerable to shortages:
O Rh Negative
A Rh Negative
B Rh Negative
AB Rh Negative.
NHSBT also places an emphasis on securing blood from a diverse range of donors.
For conditions which are more common among certain ethnic minorities, such as sickle cell anaemia, it is beneficial for patients to receive blood from the same ethnic background.
While 14% of people living in England and North Wales are black, Asian or minority ethnic, only 4% of active blood donors are from these communities.
South Wales is not included in the figures as it has a separate blood donation appeal.
Jon Latham, NHS Blood and Transplant assistant director, said: "Blood stock levels can drop dramatically over the busy festive period as Christmas shopping, celebrations and extended public holidays mean giving blood slips off the nation's to-do lists."
He added that one single donation can save or improve up to three lives.
Those interested in donating are asked to call NHSBT on 0300 123 23 23.