Warning over plastics used in treating premature babies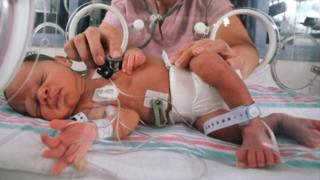 US researchers have warned that premature babies are being exposed to high levels of a potentially dangerous chemical in plastics.
A study suggested babies may be exposed to high levels of a phthalate called DEHP in medical equipment.
Some US healthcare providers have banned the use of DEHP, and other products were available, the researchers said.
The UK is currently re-evaluating its position on phthalate use in devices.
Evidence on the safety of phthalates in humans has been inconclusive, but European regulators have classified DEHP as possibly carcinogenic to humans.
Newborn babies in intensive care were in a high-risk population for exposure to DEHP, regulators said, because they were dependent on multiple medical devices.
From July 2015, France will become the first country to ban the use of DEHP-containing tubes in neonatal, paediatric, and maternity units.
A preliminary EU report on the safety of DEHP in medical devices published in September concluded that the potential replacement for DEHP in medical devices needs to be balanced with the benefits they bring in treatment, but that wherever possible low-release material should be used.
In the UK, the Medicines and Healthcare products Regulatory Agency is re-evaluating its position on the safety of medical devices containing DEHP and is reviewing the EU report.
It has previously said that exposure to high levels of DEHP is a cause for concern, but that there had been no evidence to suggest that medical devices with DEHP presented an unacceptable health risk.
The phthalate can make medical devices easier to use, less likely to cause damage to tissue and more comfortable for the patient, the agency has said.
DEHP is used in the manufacture of PVC plastic and helps to make it softer and more flexible, but it can leach out of the plastic, and has been shown in the laboratory to cause reproductive birth defects and infertility in animals.
The new study suggested the amount of DEHP in medical equipment such as breathing tubes, intravenous lines and blood bags meant vulnerable babies may be in contact with levels far higher than that deemed to be safe.
Estimating the impact
Previous research that attempted to calculate exposure to DEHP in babies in hospital had measured how much was passed out in the urine, but this was difficult to do accurately, the researchers said.
Instead the team, from Johns Hopkins Bloomberg School of Public Health, calculated potential exposure based on studies that had shown how much DEHP could leak out of certain medical devices.
Reporting in the Journal of Perinatology, they estimated that premature babies who were on a ventilator could be exposed to about 16mg/kg per day, which is 4,000 to 160,000 times higher than those believed to be safe.
Analysis of the possible health impacts, other than the most commonly reported effects on reproduction showed, at least in animals, phthalates could also cause problems with the development of the lungs, gut, brain and eyes development.
Study leader Dr Eric Mallow said critically ill premature babies were cared for in an environment almost completely made of plastic.
"The role of these synthetic materials in the clinical course of our patients remains almost completely unexplored.
"PVC is the predominant flexible plastic in most NICUs [neonatal intensive care units], and this can result in considerable DEHP exposures during intensive care," he said.
"You need to consider the materials you are using when you're taking care of very tiny, very vulnerable patients," he added.
Duncan Wilbur, head of communications for premature baby charity Bliss, said: "Careful consideration should always be given when treating premature and sick babies.
"Any risk to the health and safety of these vulnerable babies created by medical products is a potential concern. Based on the findings of this study we would recommend that further research is needed," he added.