The NHS this winter - how chilly will it get?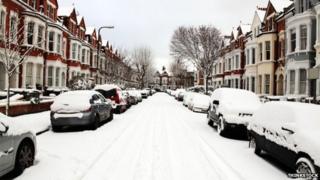 There's a nip in the air - and thoughts in Westminster, Whitehall, and the NHS are focussing on winter.
Anecdotal reports of A&E departments under strain have been circulating.
Nobody is denying the pressures on the NHS, as an increasing and ageing population seek care.
The question is how much the system will be stretched this winter.
A selection of data which might have given an interesting snapshot on the state of the health service ahead of winter was expected today.
NHS England has decided not to start publishing its extended range of performance stats for winter just yet - we await news of when that may begin.
Figures on the finances of leading hospital trusts published by the regulator Monitor were also due today.
Owing to "background issues" the numbers are still being crunched according to a source and they have now been pushed back to next week.
It all sounds sort of reasonable - but conspiracy theorists might be getting interested.
Data 'fog'
The latest figures from NHS England show that in the week ending November 16th, just under 93% of those attending A&E units were seen within four hours, the lowest weekly percentage since April 2013.
The figure has been below the government's 95% target since the end of September - though it is important to point out that the target relates to a quarterly average rather than week by week fluctuations.
The Department of Health points out that the week ending November 16th was before the recently announced extra £300m of funding to cover winter pressures began to take effect.
At the press conference to announce the extra money Health Secretary Jeremy Hunt said he believed there would be an improvement on "current levels" of A&E patient outcomes.
The Department also notes that 2,000 more people every day are seen within that four-hour window in A&E last year compared to 2010.
With a higher population, more people are being dealt with in A&E though a smaller proportion are being seen within four hours.
Labour's take on the statistics, as you might expect, is rather different.
Because of that higher population effect, the opposition can argue that more than 30,000 waited more than four hours for treatment, twice as many as in the same week as last year.
Labour's verdict - hospitals are "struggling to cope" .
So behind the fog of data, what's really going on?
'Relentless rise'
The truth is that its too soon to make firm predictions about this winter. Much will depend on the temperature.
Both ministers and NHS chiefs will be crossing their fingers hoping for a repeat of last year's mild seasonal climate.
They also hope that the "major incident" declared last weekend at Colchester to try to clear a patient backlog was caused by localised problems.
But it is abundantly clear that the surging demand for treatment at A&E units is putting considerable pressure on hospitals and GPs.
The finest minds at the NHS are puzzled by the relentless rise in numbers of people presenting themselves at A&E.
They can only hope patients heed their advice to stay away if at all possible and go to pharmacies instead.