The family where nursing 'runs in the genes'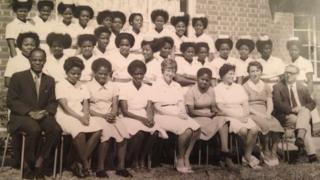 A passion for nursing and adventure runs in the family of Ivy Cooper-Barlow.
Her daughter, Sarah Wheatland, and granddaughter Annabel listen intently as the 91-year-old talks about her life on Likoma Island in Lake Malawi more than five decades ago.
The only hospital on the island was very basic, supplies and medicines were limited and electricity was virtually non-existent.
The only communication possible with the outside world was via a telephone at the post office for about half an hour in the evening.
And the only way on and off the island was by the steamer Ilala, which called every third week on a Tuesday and Thursday, bringing essential supplies.
Ivy recalls how difficult life was. "We managed to cope with what we had, but we had to think hard. We only lost one woman during childbirth while I was there."
As part of a mission to Africa in 1959, following in the footsteps of Scottish medic David Livingstone, Ivy offered her nursing skills to the island's population, training local people to become nurses while treating patients with malaria and helping women during childbirth.
Sometimes a doctor would visit the island - and there were occasions when he needed looking after too.
"During one trip to the island he got very sick," Ivy says. "We had to give him all the drugs we had. Eventually he recovered and we got him safely back on the boat."
Vaccination queue
Ivy's daughter Sarah, 50, and granddaughter Annabel, 28, are clearly inspired by her passion for caring for people. Both are nurses too.
After many years working at St Mary's Hospital, Paddington, Sarah is now head of children's services at The Portland Hospital in London, while daughter Annabel is a paediatric site practitioner at the same hospital.
Another of Sarah's six children is also a paediatric nurse.
"Healthcare was always there and always talked about," Sarah says of the 10 years she spent growing up in Zimbabwe and Blantyre, Malawi - where, by that stage, her mother had set up a school for training nurses.
As a child she remembers the specimen jars that filled their front room and the people who lined up outside their house to get vaccinations during a cholera epidemic.
There were many happy memories too. "I remember the open spaces. We had a lovely house, a thatched cottage, a big garden."
"And it was like living in a village because everyone knew each other," Ivy chips in.
Yet, they were surrounded by poverty. At the end of their road people lived in mud homes with no electricity.
According to Annabel, who recently visited Malawi with a friend to do charitable work, little has changed in the rural areas.
She says her journey, in her grandmother's footsteps, was an "eye opener".
She helped at a health visitor clinic, doing malaria testing, and also spent time raising money for a "medical boat" to transport sick people to larger, better-equipped hospitals.
Changing times
Nursing, of course, has changed a great deal in the years since Ivy decided to become a nurse during World War Two.
Nowadays, nurses study at university or college, mixing time in the lecture theatre with placements in hospitals. Previously, nursing skills were all learnt in hospitals on the wards, by treating patients.
When Ivy was working as a nurse, her most important possessions were a fob watch, a pulsometer and a treatment book and bath book, in which details of a patient's care were written by hand.
Matrons were the dominant figures in hospitals and ward sisters ruled the wards.
"There was more emphasis on basic care," Ivy says. And making hospital beds was an art.
"Something called a draw sheet had to be exactly 12 inches from the top of the bed."
"But patients stayed in bed much longer then," Sarah says. "Nowadays we mobilise patients far more quickly."
Nurses still wear the fob watch on their uniform, but their job entails many more responsibilities than before.
Sarah says: "Nurses do so much now, and there's so much more technology involved. There's also much more of an equal partnership between doctors and nurses."
In her current role, she has re-structured the nursing team at The Portland.
This has meant bringing in paediatric nurse practitioners with a broader set of skills, who have responsibility for staffing, bed management and early assessment of sick children.
"The aim is to increase the safety of patients and help the doctors' role."
Is working in a private hospital less stressful than an NHS one?
"Some days go smoothly and others don't - just like any hospital.
"I work in a busy department. It's a lovely environment to work in and we are able to have good ratios of nurses to patients, but for me it doesn't matter whether it's an NHS or private hospital - providing excellent care to patients is what I am there to do."
In her role managing teams of nurses, Sarah knows she has to be visible and approachable because good communication is paramount - with staff, patients and their families.
Nurses don't always have it easy though. Headlines about nursing scandals in recent years have risked damaging the reputation of the caring profession.
But Annabel and Sarah are not worried.
"The bad things that happen in nursing get talked about more than the good things," Annabel says.
Sarah adds: "Nurses go beyond the call of duty. Most work over their hours. People don't go into nursing for the money. They do it because they care."
Yet she explains that nurses need to be passionate as well as realistic. It's a way of life, not just a job.
"We are proud of what we do. If you end up in hospital, it's nurses who will be caring for you 24 hours a day, not the doctors."
Financial pressure
They have concerns too. Against a backdrop of NHS strikes this year, involving nurses, midwives and other NHS staff, pay is a hot topic.
And all agree there is pressure to manage budgets and resources carefully.
Sarah says the profession must also think about where care should be delivered in the future. With an ageing population, care in the community could become increasingly important.
If this happens, nurses' training may have to be tailored to this effect.
In 1975, after 17 years in Africa - and only one return trip to the UK - Ivy and her husband returned to north London with Sarah, where they all still live.
Ivy remembers women carrying water from Lake Malawi on their heads to bathe in.
And she remembers the lovely nurses she trained there over many years.
With her nursing skills and compassion now passed on to her daughter and granddaughter, nursing is in safe hands.