Stem cell scandal scientist Haruko Obokata resigns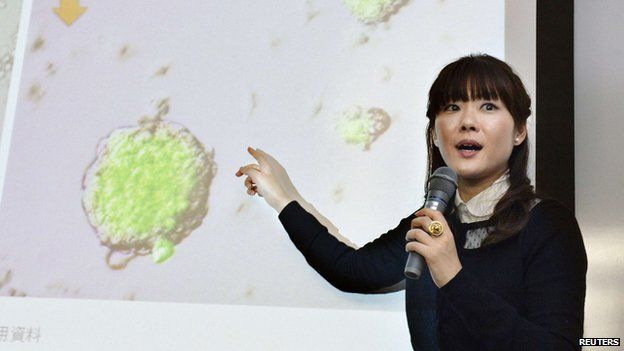 A Japanese stem cell scientist at the heart of a scandal over false claims and fabricated research has resigned.
Dr Haruko Obokata published supposedly groundbreaking research showing stem cells could be made quickly and cheaply.
There were irregularities in data, no other group in the world could repeat her findings and her own university concluded it could not be done.
In a statement Dr Obokata said: "I even can't find the words for an apology."
Stem cells can become any other type of tissue and hold great potential in medicine.
They are already being investigated to heal the damage caused by a heart attack and to restore sight.
But they are expensive and difficult to produce and one source - embryos - raises serious ethical questions.
The announcement of the creation of these "Stap" cells (stimulus-triggered acquisition of pluripotency) sent shockwaves around the world.
They were described as a "major scientific discovery" and a "game changer" by respected scientists in the field.
However, the findings were too good to be true.
The work was investigated by the Riken Institute, the centre that conducted the research, and was retracted by Nature in July, amid concern that some of the results had been fabricated.
Riken has been attempting to reproduce the results, but this week announced it had been unsuccessful.
Shinichi Aizawa from the university said: "We have conducted verification experiments but can't repeat the Stap phenomenon. As a result, we will terminate the verification experiments."
In her resignation announcement, Dr Obokata said: "I worked hard for three months to show significant results, but I'm so exhausted now and extremely puzzled.
"I am keenly aware of my responsibility for troubling a number of people because of my inexperience.
"I even can't find the words for an apology."
Riken has accepted her resignation.
Prof Chris Mason, from University College London, told the BBC: "There were serious problems with the whole thing.
"They've given her a chance, which is right, but she didn't manage to reproduce the results.
"I don't think it has damaged science, there have been some really solid breakthroughs this year and the focus is on truly transformative therapies."