Loom bands 'inhalation danger' to young children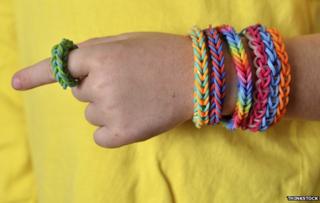 Doctors are warning parents of the need to be vigilant after a spate of children with loom bands stuck up their noses.
Although medics can usually get them out, there is a real risk children could choke on them, the Journal of Laryngology and Otology reports.
The tiny colourful rubber bands, which can be woven to make bracelets, are one of this year's most popular toys.
Emergency doctors reported four cases at one hospital in a week.
The team at the Monklands hospital, in Scotland, urged parents to keep a careful eye on young children playing with loom bands.
They said an inhaled loom band or clip could prove fatal.
Noses or ears
Dr Iain Bohler, a surgical registrar and report author, who has since moved to New Zealand, said while it was common for children to turn up at hospital with small objects in their noses or ears, medics had only started to see this with loom bands fairly recently.
"Often foreign bodies are removed with little more than distress to the child, however, in the worst case scenario, they can lead to blocked airways, cardiorespiratory arrest and death."
Dr Bohler said that loom bands could be a lot of fun, unleashing children's creative minds.
"I would however stress with utmost sincerity, the need for parental vigilance in supervising young children playing with loom bands, or any other toy or item with small parts."
Global craze
Rainbow loom, the plastic device for weaving the small bands, was invented in 2011.
The craze for making them into jewellery and even items of clothing has taken off worldwide.
Celebrities including the Duchess of Cambridge and David Beckham have been spotted wearing loom band bracelets.
Two of the children reported by Dr Bohler had inserted one of the s-shaped hooks - used to complete loom band bracelets - into their nose. One child ended up swallowing it after initially choking.
The other two young children had managed to get loom bands stuck in their nasal passages.
Local anaesthetic and crocodile forceps were needed, with the children becoming very distressed at attempts to get the objects out.
Dr Bohler said: "Should any parents be remotely concerned their child has swallowed or inhaled any object, they must contact emergency services immediately."
Dr Donald MacGregor, spokesman for the Royal College of Paediatrics and Child Health, advised parents to be aware that "small objects will always get into places you don't want them to be with young children."
He called for families to ensure they knew what to do in the event of choking.