UK Ebola nurse Pauline Cafferkey has 'stabilised'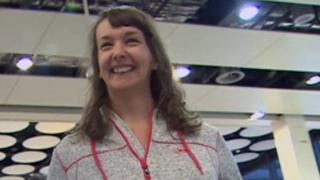 A British nurse who was diagnosed with Ebola after returning from Sierra Leone is still in a critical condition, but has stabilised, Health Secretary Jeremy Hunt says.
He said Pauline Cafferkey was getting the "best possible care" at the Royal Free Hospital in London.
He went on to say "she stands for the very best of NHS values" and that the whole country was proud of her.
Mr Hunt said screening measures had been "strengthened" at airports.
Ms Cafferkey, a public health nurse, was diagnosed with Ebola in December after volunteering with Save the Children in Sierra Leone.
She is being treated with experimental drugs and Mr Hunt confirmed she had received blood plasma from another British nurse, William Pooley, who recovered from an Ebola infection.
Speaking in the Commons, Mr Hunt said: "I have this morning spoken to Dr Mike Jacobs, an expert in infectious diseases who is leading the team of doctors and nurses caring for Pauline at the Royal Free.
"As has been reported, Pauline's condition has deteriorated to a critical state although she stabilised yesterday and continues to receive the best possible care."
Screening
Ms Cafferkey had travelled home via Casablanca, Morocco, and Heathrow Airport in London.
She was initially screened at Heathrow, but her temperature was normal.
She told officials at the airport that she believed a fever might be developing and her temperature was taken a further six times within 30 minutes.
It was normal each time and she was cleared to fly home to Scotland.
Mr Hunt insisted this was the correct decision and that there was no risk of transmitting the virus to fellow passengers.
However, he did say screening was not "as smooth as it needed to be" and that over Christmas "we probably didn't have as many people as needed".
He said screening had been enhanced: "We have also, as of last Monday, strengthened our guidance to ensure anyone from a higher risk group who feels unwell will be reassessed.
"Advice will be immediately sought from an infectious disease specialist and the passenger will be referred for testing, if appropriate."
Investigation
Earlier, the charity Save the Children said "no stone will be left unturned" in its investigation into how Ms Cafferkey contracted the disease.
The charity's Sierra Leone director, Rob MacGillivray, told the BBC the investigation would "ensure that we do everything, leave no stone unturned, to be able to as far as possible identify the source of this infection".
The review is being conducted by a panel that includes independent health experts and will scrutinise training, safety protocols, how protective equipment is used, and working practices.
Kerrytown treatment centre By Tulip Mazumdar, BBC global health correspondent, Sierra Leone
Kerrytown was built by the British Army Royal Engineers over two months and opened on 5 November.
It's a sprawling facility on the outskirts of Freetown with the capacity to treat around 80 patients. It also includes a 12-bed centre specifically for treating health workers.
Medics at the centre have so far treated more than 200 patients. More than 70 have survived.
The facility is mainly staffed by local health workers - around a fifth are volunteers from overseas. Fourteen are NHS volunteers, and there are around 40 NHS volunteers stationed throughout Sierra Leone at the moment.
This is the second time a foreign medic has been infected here. In November, a Cuban doctor became unwell and was flown to Geneva for treatment. He survived.
Save the Children says health workers are given rigorous training before treating patients, but points out it's impossible to reduce the risk altogether.
It says it will focus some of the investigation on the use of personal protective equipment.
More than 600 health workers have become infected with Ebola during this outbreak in the three worst-affected countries, of whom over 300 have died - the vast majority of them have been west African.