NHS plan to achieve earlier cancer diagnosis and save lives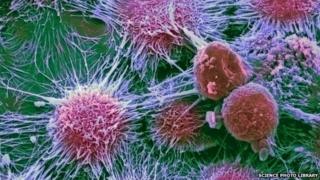 Patients are to be given the option to refer themselves for cancer tests, as part of an NHS England bid to diagnose an extra 10% of people early.
It said it would start testing new ways of speeding up diagnosis, including offering patients the option to book appointments directly with a hospital or testing unit ahead of seeing a GP.
The body will also fund further trials of a pioneering form of radiotherapy.
Currently, around 25% of cancer diagnoses are made too late.
The plans are part of a drive to improve cancer survival rates in England, which are below the European average, especially for people over 75.
NHS England says diagnosing 60%, rather than 50%, of people early would mean 8,000 more patients would be alive five years after diagnosis.
This would also result in a fall in the number of cancer diagnoses which have to be made in A&E.
NHS England said it would test the following initiatives:
Enabling patients to book their own appointments directly with a hospital diagnostic service or testing unit instead of going to see their GP first
Offering patients different types of cancer tests in the same place, on the same day
Using community pharmacists to fast-track patients when recurring cancer symptoms are suspected
GPs sending patients directly for specific tests, without having to refer to a specialist
Better treatments
A potentially less damaging and more precise type of radiotherapy, called stereotactic ablative radiotherapy (SABR), has been shown to be effective when used to treat certain kinds of lung cancer.
Now NHS England wants to test how well SABR works on other types of cancer, by enrolling 750 patients a year in four new studies.
An NHS cancer taskforce, made up of cancer doctors, patient groups and charity leaders, has also been asked to draw up a five-year action plan for cancer services to make this happen.
It will focus on better prevention, speedier diagnosis and better treatment and aftercare for all those with cancer.
Harpal Kumar, chief executive of Cancer Research UK and head of the cancer taskforce, said cancer cases were set to rise.
"We know that many more people will be diagnosed with cancer in the years ahead. Cancer Research UK is projecting an increase of a third in the number of cases over the next 15 years. So the time is right to set new ambitions and look at how we will meet this need."
NHS England's chief executive, Simon Stevens, said: "Cancer survival rates in England are at an all-time high, but too many patients are still being diagnosed late.
"So it's time for a fresh look at how we can do even better - with more focus on prevention, earlier diagnosis and modern radiotherapy and other services so that over the next five years we can save at least 8,000 more lives a year."
Recent figures show that more than one in three people in the UK develop cancer, and half of those will now live for at least 10 years. Forty years ago, the average survival of cancer patients was just one year.