GP practices in special measures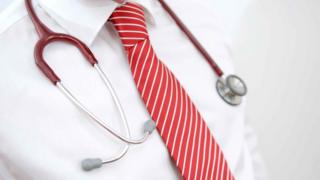 Three GP practices have been placed in "special measures" as part of a new inspection regime.
The Care Quality Commission said "significant areas of concern" had been uncovered at the surgeries in Liverpool, Reading and Greater Manchester.
They could be closed in six months if services do not improve.
The first results from the inspections rated five inadequate and 10 as requiring improvement.
Three were given an outstanding rating and 57 were classed good.
Those placed in special measures were:
Dr Srinivas Dharmana, Queens Drive, Liverpool - rated inadequate for being safe, effective, caring, responsive and well-led.
Dr Michael Florin, Norris Road, Sale, Greater Manchester - rated inadequate for being safe and well-led, and requiring improvement to be responsive and effective.
Priory Avenue Surgery, Caversham, Reading - rated inadequate for being safe, effective and well-led, and requiring improvement to be caring and responsive.
NHS England is working with each practice to help it improve.
The chief inspector of general practice, Prof Steve Field, said: "It is disappointing that we have found any to be inadequate, but it is important that those practices are offered help at the earliest opportunity to improve.
"In each case, we have found significant areas of concern.
"Patients should be able to expect high quality and consistent care from their GP, which is why I have put the three practices into special measures."
Inadequate
A further two inadequate practices - Richmond Medical Centre in Leeds and Widdrington Medical Practitioners in Northumberland - have been told they will be put into special measures if they do not improve.
The CQC said the priority was to help practices improve and that surgeries would be closed only if it was "absolutely necessary".
Dr Richard Vautrey, the deputy chairman of the British Medical Associations GP committee, said: "GPs work very hard every day to provide the best possible service to their patients and the consistent message from independent patient satisfaction surveys is that the overwhelming majority of practices achieve this.
"When in rare occasions a practice is not performing as well as it would want to, there are often complex reasons which need to be fully understood.
"Such practices often work in very challenging situations and usually need help and support, not condemnation or naming and shaming, which only makes matters worse.
"It also makes it doubly difficult to recruit new GPs to help resolve the problem."
Dr Maureen Baker, the chairwoman of the Royal College of GPs, said: "In some cases, practices can find themselves in difficulty due to factors beyond their control, such as lack of funding, significant increases in patient consultations and difficulties in trying to recruit sufficient GPs to meet patients' needs - not because they are uncaring.
"Those that have been found to be struggling need support, not criticism.