Thousands 'need three-person babies'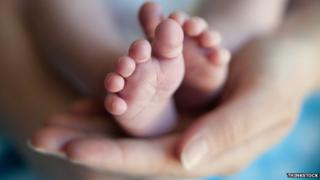 Nearly 2,500 women in the UK would benefit from a fertility technique to make babies from three people, a study suggests.
Next week, MPs are expected to vote on whether to allow the practice. The first attempt is expected this year, if there is a Yes vote.
The fertility technique uses material from the mother, father and a donor woman to prevent deadly diseases.
The analysis was published in the New England Journal of Medicine.
It assessed the number of reproductive-age women, between 15 and 44, in north-east England who would pass on "mitochondrial diseases".
Mitochondria are the microscopic power stations in nearly every cell of the body. Defects leave the body with insufficient energy to function.
Defective mitochondria are passed only from mother to child, so scientists in the UK have pioneered therapies that use functioning mitochondria from a donor woman.
However, mitochondria have a tiny amount of their own DNA, so any resulting child would have genetic information from three people.
'Designer babies'
A team at the Wellcome Trust Centre for Mitochondrial Research at Newcastle University found 154 at-risk women in their region and estimated 2,473 women were affected across the whole of the UK.
The scientists suggest this would translate to an average of 152 births per year.
However, the technique would take place in a far more limited capacity, at least initially, if it was allowed.
The method has attracted support for the benefit to the patient and criticism from campaign groups who argue it is a step towards designer babies.
Sir David Spiegelhalter, a statistics professor at the University of Cambridge, said: "To estimate the total number of affected women, they have extrapolated from the North East to the rest of the country, and so their estimates are naturally uncertain - their estimate of births to women at-risk in the UK ranges from 125 to 200 each year.
"But since they only include the cases that have come to their attention, if anything their total numbers are likely to be on the low side."