NHS satisfaction 'risen significantly'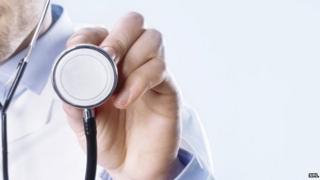 Public satisfaction with the NHS has "risen significantly", according to analysis of the influential British Social Attitudes survey.
Of nearly 2,000 people surveyed, 65% were "very" or "quite" satisfied with the NHS.
It is the second highest recorded level, and outright "dissatisfaction" is at an all-time low of 15%.
A BBC/Populus poll this week suggested the NHS was the most important issue ahead of the general election, in May.
The British Social Attitudes survey, conducted by NatCen Social Research, took place in the autumn, well before the widely reported problems in A&E this winter.
It showed public satisfaction at 65% compared with 60% in 2013.
The analysis of the data, by the King's Fund health think tank, showed:
GPs had the highest level of satisfaction, although the figure of 71% is the lowest recorded
Satisfaction in A&E stood at 58% and at 69% in out-patient services
With dentists the figure was 54%
Meanwhile, just 31% were happy with social care services
Overall satisfaction had plummeted from 70% in 2010 to 58% in 2011. That fall coincided with the controversy over reforms in England.
John Appleby, the chief economist at the King's Fund, said: "Public satisfaction with the NHS is high and has risen significantly, despite a year in which the service hit the headlines for financial pressures and difficulties with A&E waiting times.
"But as well as an actual increase in satisfaction, this may in part reflect a desire among the public to show support for the NHS as an institution."
There is a wide split in satisfaction between England, Wales and Scotland.
Wales sits bottom of the heap, with barely half of people (51%) - either very or quite satisfied.
That compared with 65% in England and 75% in Scotland, where there has been a huge surge in the past year.
Commenting on the findings, Health Secretary Jeremy Hunt said: "I welcome these findings, which show that public satisfaction with the NHS jumped five percentage points just last year, and levels of dissatisfaction are now at a record low.
'Extra mile'
"These results are a tribute to hardworking NHS staff, who are unstinting in their efforts to ensure patients receive a world-class service."
Dr Mark Porter, from the British Medical Association, said: "It is clear from this survey that patients continue to value the NHS and the hardworking contribution of doctors, nurses and other healthcare professionals.
"This survey shows that NHS staff all go the extra mile to ensure that patients are the last to suffer from the impact of the pressures on the health service.
"All parts of the NHS are struggling with ever increasing patient demand, staff shortages and insufficient resources.
"Key areas, such as an A&E and GP services, are under particular stress and in some cases are close to breaking point."