Paralysed man who walked again visits the UK
Fergus Walsh
Medical correspondent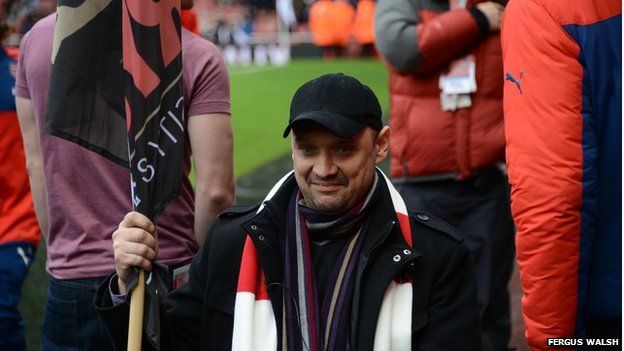 "I feel proud and honoured to be here." Darek Fidyka's words to me as he waited to form part of the guard of honour for the players at the Emirates stadium where Arsenal were about to face Aston Villa.
Paralysed from the chest down in a knife attack, Darek, from Poland, was the first person in the world to undergo a pioneering treatment which has enabled him to walk again with the aid of a frame.
The BBC's Panorama programme "To Walk Again" revealed how surgeons transplanted cells from his nose into his damaged spinal cord.
I have interviewed Darek on several occasions in Poland, and have followed his painstaking progress of rehabilitation following the pioneering procedure.
But this was his first trip outside Poland since the operation.
The BBC documentary and the worldwide media interest in the past three months led to Darek receiving more than 2,000 letters and emails.
"I don't feel like a celebrity", he said. "I just feel very lucky. I have tried to answer everyone who has contacted me. I hope that this research will help others in my position."
Darek did not bring his large walking frame - essential to give him the support he needs - and so remained in his wheelchair during the game.
But the team looking after Darek continue to be delighted with his progress.
Perhaps the most memorable comment at the time of the publication of the pioneering research came from Prof Geoff Raisman, chair of neural regeneration at University College London.
He said what had been achieved was "more impressive than man walking on the moon".
Speaking before kick-off Prof Raisman told the BBC it would take years more painstaking work before they knew whether the technique could be widely applied to help paralysed patients regain function.
He said: "We do not yet have enough information to offer this procedure as a treatment. We wish to perform a small number of trials involving patients in Poland and later in the UK."
The procedure involves taking cells from the patient's own olfactory bulb - deep inside their nasal cavity - and transplanting these into the damaged spinal cord.
The charity was set up by chef David Nicholls after his son Daniel was paralysed from the arms down in a swimming accident in Australia.
Daniel, who is a passionate Arsenal supporter, was meant to join Darek at the Emirates, but is seriously ill in hospital.
"I'm very sorry he can't be here" said Darek. "I had met David Nicholls and thanked him for his support and I really wanted to see Daniel. I hope he gets well soon."
The event at the Emirates was part of "Arsenal for Everyone" - which celebrates diversity and aims to ensure that disability is not a barrier to enjoying football.
Darek is also in London to attend an NSIF event where the charity hopes to raise awareness and funds for the research in the UK and Poland.
Related Internet Links
The BBC is not responsible for the content of external sites.