Cap on care costs for young adults proposed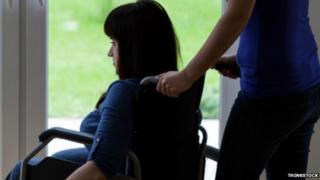 The cap on care costs should be applied to younger adults, the government in England is proposing.
Ministers have already said people aged 65 and over will have their care costs limited to £72,000 over their lifetime from 2016.
But that cap will also be applied to people who develop care needs from the age of 25, the Department of Health has now said.
Those needing care before the age of 25 will get it free forever.
The proposals will now be consulted on until the end of March.
It will replace the current system whereby those aged under 18 get free care, but after that they become liable for the cost of care with only the poorest getting help from the state.
It has long been expected that ministers would come up with some kind of system for working age adults who have high care needs, such as people with disabilities or those left with severe injuries from accidents.
'Financial protection'
The idea was put forward by the Dilnot Commission, which called for the cap on care costs for the over 65s, in 2011.
As has been agreed for the over 65s, younger adults will still be liable for their £230-a-week living costs if they need to move into a care home.
Care Minister Norman Lamb said: "People of all ages can need care or support and we want to make sure our changes benefit everyone.
"That's why we're putting forward plans to provide more support to people of working age and offer financial protection to children and young people for the rest of their lives."
The announcement comes after the BBC launched its care calculator last week, which allows people to find out about the cost of care in old age wherever they live in the UK.
---
BBC Cost of Care project
The BBC has launched an online guide to the care system for the over-65s. The "care calculator" covers both residential care and the support provided in people's own homes, for tasks such as washing and dressing.
Users can submit their postcode and find out how much each service costs wherever they live in the UK.
There is also a dedicated BBC Cost of Care website with news stories, explainers, analysis and video.