Rejected prostate cancer drug 'extends life'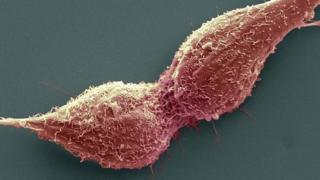 The drug abiraterone can add four months to the lives of men with advanced prostate cancer if given before chemotherapy, evidence suggests.
Currently given to NHS patients after chemotherapy, the drugs regulator had rejected expanding its use, partly over questions about survival.
Charities say the medicine should now be given to all patients who need it.
The Institute of Cancer Research said the drug might be more beneficial for patients with very aggressive cancer.
'Striking benefit'
Last year the National Institutes of Health and Care Excellence (NICE) rejected its use before chemotherapy.
A previous analysis had suggested it could slow cancer progression, but did not lengthen people's lives.
But now, a study, published in Lancet Oncology, suggests it can add an average of four months.
A second piece of research, published in Clinical Cancer Research, suggests doctors could use a genetic test to identify people with a particularly aggressive form of prostate cancer.
The study found men with this form of cancer had an extra 17 months of life when given abiraterone compared with those given a dummy pill.
Prof Paul Workman, chief executive of the Institute of Cancer Research, said: "Abiraterone has already transformed care for patients with advanced prostate cancer, but the latest trial evidence strengthens the already powerful case for it to be accepted for NHS use earlier in the course of treatment.
"Not only do the overall results find that abiraterone significantly extends lives when used before chemotherapy, but the second study shows it is possible to pick out a subgroup of men who benefit especially strikingly."
Owen Sharp, chief executive of charity Prostate Cancer UK, said: "This data further confirms the huge benefits of abiraterone for men with incurable prostate cancer who haven't yet received chemotherapy.
"We want to see this additional evidence swiftly lead to this use of abiraterone being routinely available for all men who need it in the UK."
Following an appeal last year, NICE began to relook at decisions regarding this drug. The regulator says this appraisal is ongoing.