Screen name choice is key to finding love online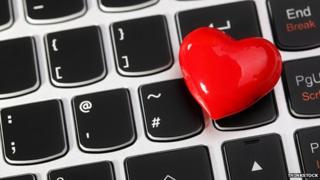 Using a playful screen name, starting with a letter near the beginning of the alphabet, could be the key to online dating success.
Writing in the journal Evidence Based Medicine, researchers said getting the profile seen was as important as an attractive photo.
While women respond to names indicating intelligence, men go for names suggesting physical attractiveness.
Using humour in a clever way can also give online profiles an edge.
The research, led by Prof Khalid Khan from Queen Mary University London, investigated how men and women could get the most out of online dating and improve their chances of setting up a face-to-face meeting.
To find out, the team looked at the results of more than 80 studies on the art of attraction and persuasion.
What's in a name?
Creating a profile is the first requirement of online dating sites and this review found that choosing a good screen name was vital.
For example, names with negative connotations, such as Little or Bugg, are often linked with inferiority while playful screen names, like Fun2bwith, are more attractive.
Men are more likely to respond to screen names which indicate physical attractiveness, eg Blondie, Cutie, whereas women go for names that indicate intelligence, such as Cultured.
But getting the profile seen is equally important, the study says, so make sure it appears near the top of the list.
When it comes to the photo to accompany the profile, there are various things to consider.
"A genuine smile, one that crinkles up your eyes, will make a good first impression," the paper advises.
For women, a slight tilt of the head and wearing red can also enhance attractiveness.
The right kind of group photos are also desirable.
They should show other people having a good time in your company, preferably with you right in the middle of the action and touching someone else - but only on the upper arm. These will help to convey your friendliness and status.
Women, however, find a man more attractive when they see other women smiling at him.
Don't show off
In the profile description itself, the advice is to be honest and positive about yourself, combining details of who you are and what you are looking for.
Prof Khan said: "Staying close to reality is the most important thing. People think they have to portray themselves as superheroes, but the opposite is actually true."
It is worth bearing in mind that men and women respond to different personality traits too.
"Men prefer physical fitness in women gained via yoga, aerobics and gym, not via rugby and bodybuilding, while women prefer bravery, courage and a willingness to take risks rather than kindness and altruism in their partners."
Using humour "can give the edge", he says, but it is preferable to write in a clever or humorous way rather than telling people you are hilarious.
Once you have reached the stage of communicating with a potential mate online, the researchers provide some helpful tips getting to the next stage - the first face-to-face date.
Prompt reply
Firstly, ask open questions, don't write lengthy essays and do reply promptly.
If there is webcam contact, smile, don't slouch and end every conversation on a positive note or with a positive revelation about yourself.
But they also say not to leave it more than three weeks before arranging a meeting.
All these strategies can be time-consuming, the paper says, but they are ultimately worth it.
The paper concludes: "There do not appear to be shortcuts in successfully converting electronic contact with innumerable potential dates into a face-to-face encounter with one."